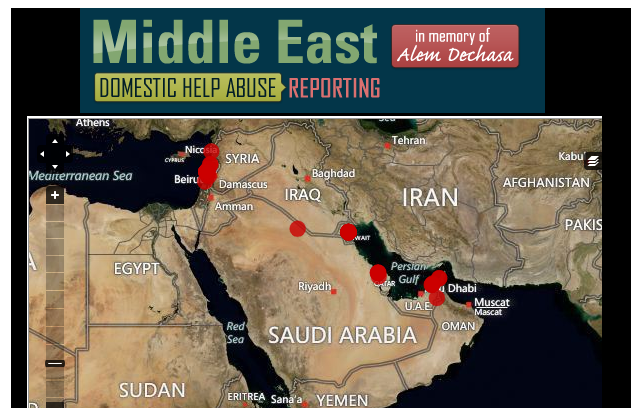 Tadias Magazine
By Tadias Staff
Published: Saturday, March 17, 2012
New York (TADIAS) – The tragic death of 33-year old Alem Dechassa in Lebanon has unleashed innovative solutions by Ethiopian professionals to bring much needed attention to the plight of domestic migrant workers in the Middle East. Alem Dechassa died on Wednesday, a few days after her videotaped beating was posted on YouTube that showed her being dragged and pushed into a car outside the Ethiopian consulate in Beirut.
"Like everyone else I was heartbroken after watching and then hearing of the apparent suicide of Alem Dechassa," said Jomo Tariku, who resides in a suburb of Washington, D.C. with his wife and two kids and works as a designer at a large NGO in data visualization. Jomo has now created a 'Middle East Domestic Help Abuse Reporting' website dedicated in memory of Alem Dechassa. "When tragedies like this happen there is always a call to action and I quickly noticed that finding data on the severity of this issue was hard to come by." He added: "The reason behind building this site is to collect the required data to lobby for change in the treatment of migrant workers in the Middle East."
The crowdsourcing website notes: "there has been a long history of Ethiopians and other migrant workers being abused in the Middle East, which sometimes results in suicide, kidnapping, enforced servitude, murder, defacement, mutilation, scarification by sharp objects, boiling water or chemicals, rape, torture, burning, beating, hot ironing, starvation. In our research to obtain data on various aspects of foreign domestic workers in the Middle East, we noticed a lack of reliable sources, so now we are asking all concerned global citizens to report, log and share the heinous practice of abusing immigrant domestic workers by Middle Eastern employers."
Jomo said: "Anyone can report an incident via the internet or a smartphone." An SMS function will also be added shortly so that abused domestic workers can communicate and report live incidents to the site.
You can log reports at the website: https://domestichelpabuse.crowdmap.com.
—
Related:
Changing Ethiopia's Media Image: The Case of People-Trafficking (TADIAS)
Lebanon cannot be 'civilised' while domestic workers are abused (The Guardian)
Petition to Stop the Abuse of Migrant Domestic Workers in Lebanon (Change.org)
Photos: Vigil for Alem Dechassa Outside Lebanon Embassy in D.C. (TADIAS)
Ethiopia Sues Lebanese Man Over Beating of Domestic Worker (The Daily Star)
Ethiopian Abused in Lebanon Said to Have Committed Suicide (The New York Times)
In Lebanon Abuse Video of Ethiopian Domestic Worker Surfaces (TADIAS)