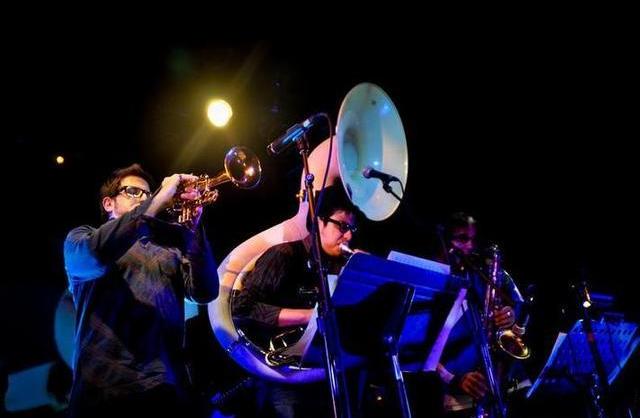 Tadias Magazine
By Tadias Staff
Published: Friday, March 16, 2012
Los Angeles (TADIAS) – Lesanu (Sonny) Abegaze, aka DJ Son Zoo, believes this weekend's St. Patrick's Day concert featuring Todd Simon's Ethio Cali Ensemble at the Del Monte Speakeasy in Los Angeles will be a joyful occasion.
"I'll be dj'ing for this show which is taking place in Venice, California," Sonny said. "It falls on St. Patrick's day so it should be a festive time."
The band leader is Todd Simon, a trumpeter, composer, and arranger, well-versed in the Ethiopian Jazz tradition, having performed with Mulatu Astatke for the inaugural Mochilla Timeless concert series. Ethio-Cali followed up their debut concert last summer at the Hammer Museum/UCLA with a sold out performance opening up for the Budos Band last month at the Echoplex. The group features, among others, Alan Lightner, Dexter Story, Mark de Clive-Lowe, Tracy Wannomae, and Kamasi Washington.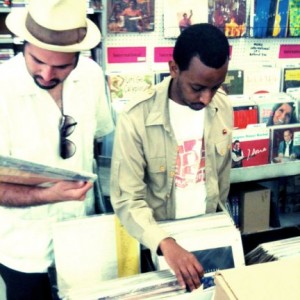 (Sonny, right, with his friend Moises at a Southern California record store – Courtesy photo).
Sonny, whose parents moved from Gonder to California, via Sudan, when he was an infant said he became attracted to Ethiopian music when he visited his ancestral home in his college years. "I was born in Sudan, but moved to the U.S. when only a few months old," Sonny told us. "I grew up in various parts of Cali, and later had the opportunity to live and study in Ghana during my undergrad years." He added: "This was when I travelled to Ethiopia for the first time, and really got into Ethiopian music. While abroad, I also started a radio show at the University of Ghana in Legon, which is how I got introduced to the whole world of dj'ing."
Regarding the Todd Simon's Ethio Cali Ensemble, Sonny said: "They play music inspired by the golden era of Ethio-Jazz, and also bring some modern elements into the mix through some original compositions. The members of the band come from diverse backgrounds and all have a deep appreciation for Ethiopian music."
As to growing up in California, Sonny quipped: "I find myself eating way more burritos than I do Injera, kinda comes with the territory when you live in the city of angels."
—
If You Go:
Saturday March 17, 2012
The Del Monte Speakeasy
9:00 pm – 2:00 am
21+
Cover: $5.00
At the Del Monte Speakeasy
Order pre-sale tickets at http://TBCTickets.com/
Venue URL: http://townhousevenice.com