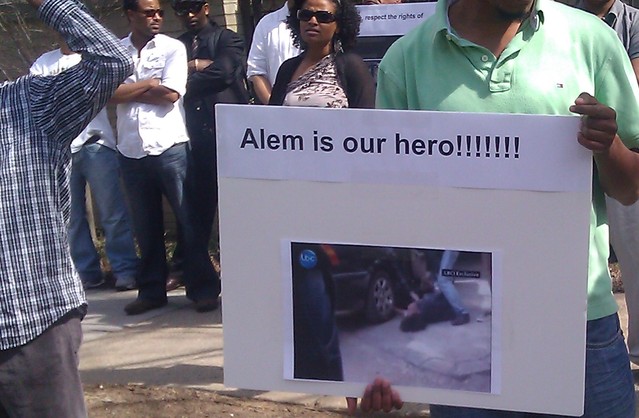 Tadias Magazine
By Martha Z. Tegegn

Published: Friday, March 16, 2012
Washington, D.C (TADIAS) – A crowd of Ethiopians gathered in front of the Embassy of Lebanon here on Thursday morning for an hour vigil to mourn and protest the death of 33-year old Alem Dechassa, the Ethiopian woman that was violently mistreated outside the Ethiopian embassy in Beirut as shown in a viral video last weekend. Alem died on Wednesday.
"I admire her resilience in resisting her abusers," said Ephrem Amsalu, who drove with his friends from northern Virginia. "She is a true hero who put a spotlight on this enormous crisis." He added: "I am here to show my deepest gratitude to her heroism and to express my concern about her sudden death a few days after the attack."
Ms. Meseret Hassen of Silver Spring, Maryland also attended the event. "I am confident the Lebanese government will do the right thing," she said. "I hope this uproar will continue until we come up with solid solution and I would also hope that the Ethiopian government would strengthen its relationship with its citizens abroad, particularly domestic workers in Arab countries."
Ato Teklemichael Abebe spoke on behalf of the crowd. "Thank you for giving us this opportunity to listen to our issues," he said. Addressing Lebanese Embassy staff he added: "We would like to thank you for primarily arresting the man who is behind this. However the Daily Star just announced that the man who is responsible for this action has been released. We would like you to explain to us the details surrounding the news."
"We strongly condemn the tragedy that has happened to your fellow citizen Ms. Alem Dechassa," Mr. Toni Frangie, Lebanese Embassy's first secretary told the crowd. "What happened is unacceptable by all human rights standards and we can assure you that the Lebanese government is fully and strongly committed to take all the necessary steps and measures to hold accountable the offenders and to prevent any kind of human rights abuse." He added: "I will convey your demands and your concerns to our government."
Below is a slideshow from the vigil for Alem Dechassa in Washington D.C. on March 15, 2012.

—
Related:
Changing Ethiopia's Media Image: The Case of People-Trafficking (TADIAS)
2012 in Pictures: Politcs, London Olympics and Alem Dechasa (TADIAS)
Lebanon cannot be 'civilised' while domestic workers are abused (The Guardian)
Petition to Stop the Abuse of Migrant Domestic Workers in Lebanon (Change.org)
Photos: Vigil for Alem Dechassa Outside Lebanon Embassy in D.C. (TADIAS)
Ethiopia Sues Lebanese Man Over Beating of Domestic Worker (The Daily Star)
Ethiopian Abused in Lebanon Said to Have Committed Suicide (The New York Times)
In Lebanon Abuse Video of Ethiopian Domestic Worker Surfaces (TADIAS)