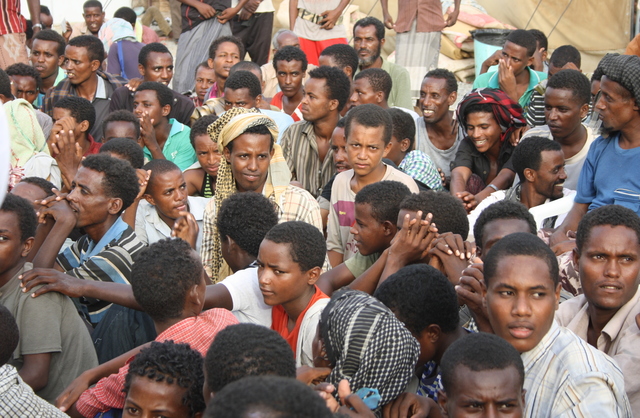 Tadias Magazine
Editorial
Updated: Monday, July 22, 2013
New York (TADIAS) – In its World News TV program broadcast globally this past weekend, BBC exposed the continuing plight of thousands of Ethiopian migrants attempting to reach Saudi Arabia in search of jobs. That is if they can survive the unimaginable cruelty imposed upon them by criminal gangs. As reported from Yemen, the exploitation that awaits many along their journey includes kidnapping, torture and rape.
Back in May, Prime Minister Hailemariam Desalegn, speaking as the current Chairman of the African Union, emphasized the need for Africans to work with a view to change the image of the continent as portrayed by the international media. But when it comes to negative publicity about Ethiopia, who is better positioned than the Prime Minister himself to lead that change?
The Ethiopian tragedy in the Middle East has festered unmonitored by Ethiopian authorities for several decades and it can only be solved with a concerted effort at the highest levels of government. At this point it is a moral obligation and human rights issue for Ethiopians everywhere.
The image crisis will not go away without changing the facts on the ground. It goes without mentioning the still flourishing business in Ethiopia of trafficking young, poor, uneducated women for domestic work in the region.
Changing Africa's image abroad must begin at home and we urge Prime Minister Hailemariam to take leadership in ending the agony of Ethiopian citizens in the Middle-East.
—
Related:
Update: Ethiopia Halts Issuing Work Visas to Saudi Arabia (Sudan Tribune)
Video: Ethiopian migrants tell of torture and rape in Yemen (BBC)
Video: Inside Yemen's 'torture camps' (BBC News)
Meskerem Assefa Advocates for Ethiopian Women in the Middle East (TADIAS)
Interactive Timeline: Ethiopian Domestic Help Abuse Headlines From the Middle East (TADIAS)
Join the conversation on Twitter and Facebook.