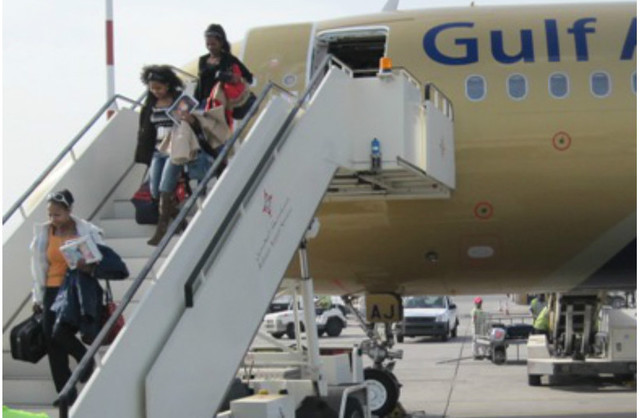 By Tesfa-Alem Tekle
ADDIS ABABA – The Ethiopian government has suspended issuing work visas to business migrants from Saudi Arabia, according to a source from the Ethiopian ministry of labour and social affairs.
The decision follows Saudi Arabia's ban last week on domestic labourers from Ethiopia, forcing tens of thousands of undocumented Ethiopian workers to leave the kingdom.
The Ethiopian official, who is not authorised to speak to the media, told Sudan Tribune on Thursday that Ethiopian authorities had revoked up to 35,000 work visas for housemaids destined for work in Saudi Arabia.
The official said the Ethiopian ban on Saudis will remain in place permanently unless a new labour agreement that respects the rights of migrating workers is reached between the two countries.
The move is also part of Ethiopia's efforts to prevent abuses of its nationals and control illegal recruitment by agents.
If Ethiopia insists on freezing work visas that it had already issued, the money which had already been spent by Saudi nationals to process workers' travel costs will have to be refunded.
Read more at Sudan Tribune.
—
Related:
Ethiopia Cancels 40,000 Work Visas for Saudi Arabia-bound Housemaids (Arab News)
Interactive Timeline: Ethiopian Domestic Help Abuse Headlines From the Middle East (TADIAS)
Changing Ethiopia's Media Image: The Case of People-Trafficking (TADIAS)
Video: Ethiopian migrants tell of torture and rape in Yemen (BBC)
Video: Inside Yemen's 'torture camps' (BBC News)
BBC Uncovers Untold People-Trafficking, Torture of Ethiopians in Yemen (TADIAS)
Meskerem Assefa Advocates for Ethiopian Women in the Middle East (TADIAS)
Join the conversation on Twitter and Facebook.