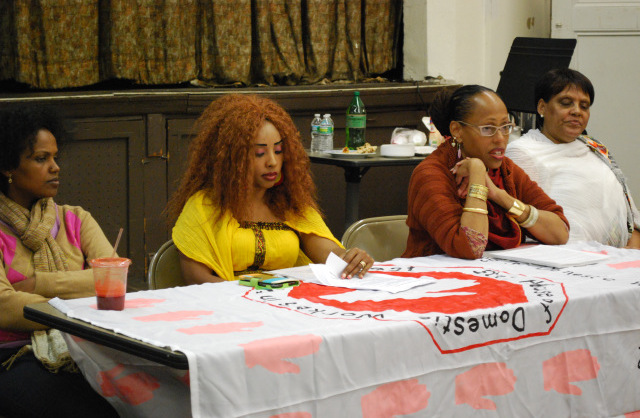 Tadias Magazine
By Tigist Selam

Updated: Wednesday, May 1st, 2013
New York (TADIAS) – One year after the video-taped beating and eventual suicide of Alem Dechasa in Lebanon that shocked and galvanized the Ethiopian community worldwide, domestic workers rights advocate Meskerem Assefa of Beirut recently traveled to New York to highlight the continuing problem in the region. She was invited by the Ethiopian Social Assistance Committee as one of the featured guest speakers at the organization's annual Women's History Month panel on March 23rd in Manhattan focusing on Ethiopian women in the Middle East.
"Every time I get the opportunity to speak to the media in Lebanon, I say stop abusing our girls," Meskerem said in a follow-up interview. Meskerem, who moved to Beruit 11 years ago with her husband, is a Lebanese national by marriage.
"I have a bit more rights than most Ethiopian women in the country so I speak on their behalf whether they like it or not because silence and fear are the worst enemy," she added. "And as an individual that's the least that I can do."
Meskerem said there are an estimated 80,000 Ethiopians living in Lebanon alone, half of them illegals operating under the radar of both the Ethiopian and Lebanese governments. She pointed out that this group is the one that is most exposed to abuse. Furthermore, there is a growing crisis of immigrant children that are born out of wedlock by domestic workers.
"These kids are not citizens of the country, they have no rights, no education, or access to medical insurance," she said. "For me this is most heartbreaking."
"Over time we are getting help from the Lebanese people and various local NGOs that working to change the law and improve the situation on the ground," Meskerem said. "We can only get a solution by continuing to organize and speak out."
"I wish that I could also do more to help the children," she said. "I have tried to organize games, dance, and other activities for some of them; I know that's not enough but there is no budget."
Meskerem emphasized the necessity for more Ethiopians to step up and get involved. "I am asking that all those who can assist should contribute to solve this issue together," she said. "Even those in Ethiopia with the intellect and resources must do their part. What's the point of being Ethiopian if you do not feel this piercing your heart."
"Stop sending these girls without basic training and their full knowledge of what they are getting into," she asserted.
Meskerem noted that she had opened an information center in Addis Ababa a few years ago. "I paid rent for two years out of my own pocket and I had to close it because there was no help and interest," she said.
Woizero Zewditu Fessehaa, chairperson of The Ethiopian Social Assistance Committee, who hosted Meskerem during her New York stay, agreed that lending a hand to activists like Meskerem and establishing an officially sanctioned certification center in Ethiopia ought be a priority. "The young women in Ethiopia need be told before they leave their country not to expect to be fed butter with a spoon when they reach their destination," she said. "That requires collaborative efforts from each and everyone of us."
—
Related:
Ethiopia Cancels 40,000 Work Visas for Saudi Arabia-bound Housemaids (Arab News)
Changing Ethiopia's Media Image: The Case of People-Trafficking (TADIAS)
Photos: BBC Uncovers Untold People-Trafficking, Torture of Ethiopians in Yemen
In Memory of Alem Dechassa: Reporting & Mapping Domestic Migrant Worker Abuse
Photos: Vigil for Alem Dechassa Outside Lebanon Embassy in D.C.
The Plight of Ethiopian Women in the Middle East: Q & A With Rahel Zegeye
—
Join the conversation on Twitter and Facebook.