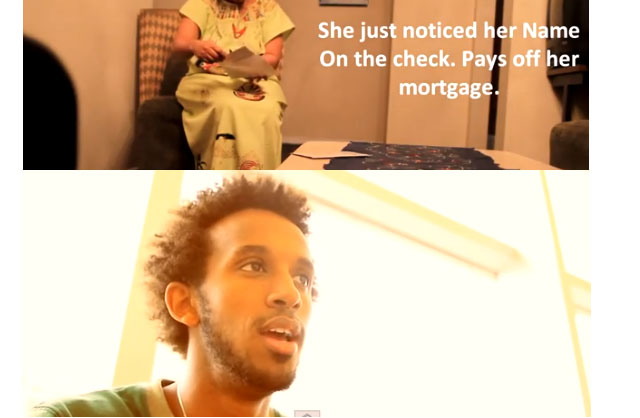 Tadias Magazine
By Tadias Staff
Published: Wednesday, May 1st, 2013
New York (TADIAS) – In the following video that is making the rounds via social media among Ethiopians, a young man in Canada surprises his mother on his birthday with a check that pays off her mortgage.
"At one point in my life I hadn't been home for two and half years, I hadn't spoken to anyone or sent any emails," he says in the video posted on iProject Atlas. "I knocked at the door, she opened it, she said hi, she smiled and she just asked me what I wanted for dinner." He added: "No questions asked, no whys, nothing, she just accepted me. Over time as she is getting older she is having a harder time keeping up with the bills so I have been saving for the last few years, have been getting ready and kind of wanted to do something for her."
Why on his birthday? "I realize birthdays are a tradition and that tradition dictates that one should celebrate their existence on the day on which they were born every year," the young man says in this written description of the video. "I just wanted to say that I am by no means a perfect son, for a long period I neglected my mother's needs, I ignored her calls and brushed her off until I needed something. Just before I started putting money aside my Father passed away. It had a great effect on me because of the kind of person he was. I decided to make a change, value the only parent I had left."
Watch the Video: Dear mother from iProject Atlas

—
Join the conversation on Twitter and Facebook.