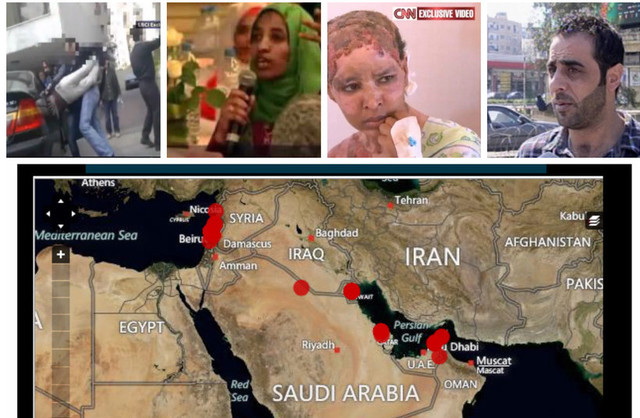 Tadias Magazine
By Tadias Staff
Published: Tuesday, July 23, 2013
New York (TADIAS) – Ever since Alem Dechasa killed herself in Lebanon following her widely publicized videotaped beating last year, Jomo Tariku, who resides in a suburb of Washington, D.C., has been compiling news reports going as far back as the 1990s documenting Ethiopian migrant worker abuse in the Middle East.
The crowdsourcing website, dedicated to Alem who was the mother of two children, keeps track of employer abuse in the region that often leads to suicide, kidnapping, enforced servitude, murder, defacement, mutilation, scarification by sharp objects, boiling water or chemicals, rape, torture, burning, beating, hot ironing, and starvation.
The following is an interactive timeline organized and filtered using the reports that has so far been collected. We hope the visual data would assist policymakers in Ethiopia and elsewhere to better assess the gravity and the long history of the issue.

—
Related:
Changing Ethiopia's Media Image: The Case of People-Trafficking (TADIAS)
Video: Ethiopian migrants tell of torture and rape in Yemen (BBC)
Video: Inside Yemen's 'torture camps' (BBC News)
BBC Uncovers Untold People-Trafficking, Torture of Ethiopians in Yemen (TADIAS)
Meskerem Assefa Advocates for Ethiopian Women in the Middle East (TADIAS)
Join the conversation on Twitter and Facebook.