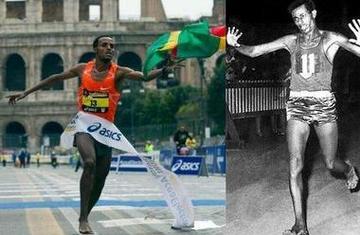 Above: Siraj Gena won the men's Rome marathon barefoot on
Sunday, replicating Abebe Bikila's famous barefoot victory at the
1960 Olympic Games (right).
Tadias Magazine
By Tadias Staff
Published: Sunday, March 21, 2010
New York (Tadias) — Ethiopia's Siraj Gena captured the Gold medal at the Rome marathon on Sunday, sprinting across the last 500 meters barefoot.
Gena finished the race in two hours, eight minutes and 39 seconds, beating Benson Barus and Nixon Machichim of Kenya for the top spot.
The runner took off his shoes to pay tribute to fellow Ethiopian Abebe Bikila, who ran the 1960 Olympic marathon in the same city barefoot and won the gold medal to become the first black African Olympic champion, hailing Ethiopia and Africa into the spotlight.
"I felt I had to do something to honor Bikila," Gena told the ANSA news agency. "For me he will always be an enormous inspiration and today I wanted to see what it would be like to cross the line in Rome barefooted like he once did."
Ethiopians also swept up the medals in the women' race. Firehiwot Dado won the gold in two hours, 25 minutes and 28 seconds, followed by Kebebush Haile who came in second at 2:25.31, and Mare Dibaba finished third at 2:25.38.

Siraj Gena of Ethiopia reaches out to grab an Ethiopian flag as he crosses the finish
line barefoot in front of the Colosseum to win the Rome City Marathon, Sunday March
21, 2010. Gena took his shoes off some 500 meters before the finish line to
commemorate Ethiopia's athlete Abebe Bikila who, 50 years ago, won the Rome
1960 Olympic Games marathon running without shoes. Photo: Associated Press.
Video: Abebe Bikila 1960 Olympic Marathon

.