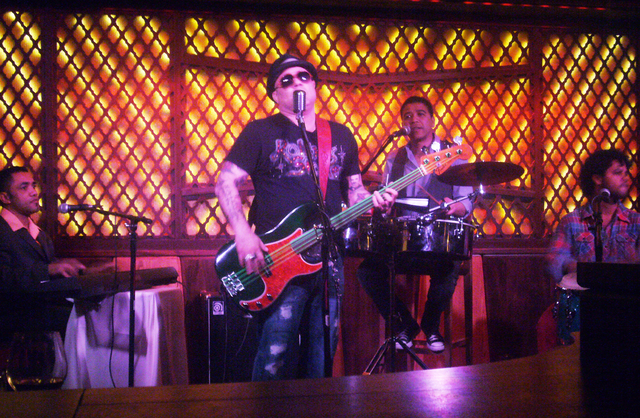 Tadias Magazine
By Tadias Staff
Wednesday, March 21, 2012
New York (TADIAS) – Last night we listened to live Cuban jazz and salsa at Ginny's Supper Club — the new speakeasy lounge below Red Rooster, and enjoyed the cocktail menu of shrimp & walnut along with drink classics such as Harlem Mule and Rooster Colada — names hailing from Harlem's renaissance in the 30′s.
Following Red Rooster's success in Harlem, Chef, Author and Owner Marcus Samuelsson launched Ginny's Supper Club this past Monday, March 19th. Grub Street profile of Ginny's proclaims: "Harlem just keeps getting buzzier" and highlighted the cocktail & relishes menu. New York Times describes Ginny's as "rich with mellow evening atmosphere that evokes the Cotton Club and other uptown hotspots of yore." The bar and 120-seat lounge has the vibe from Harlem's Golden Age, and Ginny's customers are as culturally diverse and elegantly stylish. We thoroughly enjoyed the live music.
—-
Related:
Ginny's Supper Club Looks Back in Harlem (The New York Times)
Harlem's Red Rooster: A rare diversity in dining (AP via Seattle PI)
What to Eat at Ginny's Supper Club (New York Grub Street)
–
Cover image: Photo by Tadias Magazine.