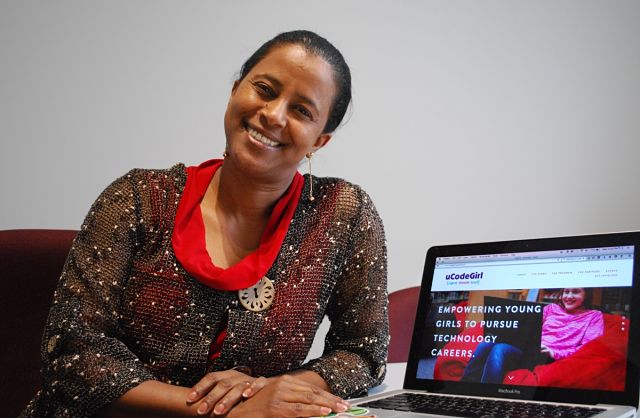 Tadias Magazine
By Tadias Staff
Published: Wednesday, March 23rd, 2016
New York (TADIAS) — Ethiopian Children's Book Author Bethlehem Abera Gronneberg has been awarded the prestigious 2016 Bush Fellowship. The Bush Foundation announced Tuesday that Bethlehem — a Software Engineering Manager who works and lives in Fargo, North Dakota — was recognized for her non-profit organization, uCodeGirl, whose mission is to encourage young girls in her region to aim for careers in the high-tech industry.
According to the foundation, which is named for Archibald Granville Bush – an American businessman and former longtime executive at the Minnesota-based multinational conglomerate, the 3M Company — Fellows receive up to $100,000 "to pursue the knowledge, connections and experiences they need to be more effective leaders in their communities."
This year 24 leaders were selected "for their records of achievement and their extraordinary potential to make significant contributions in Minnesota, North Dakota, South Dakota and 23 Native nations." The organization added: "The Bush Fellowship is both a recognition of their accomplishments and a bet on their extraordinary potential to positively impact our region."
"Inspired by the question, 'How can I see more people like me in the technology workforce?'" 2016 Fellow Bethlehem Abera Gronneberg told Tadias "I am engaging my vision and passion to create and foster an enrichment program that will inspire and empower young girls to be the driving force, the innovators of the technology they consume." She added: "I am so honored and humbled to be among an amazing group of individuals who were named the 2016 Bush Fellows."
Bethlehem described her organization, uCodeGirl, as "a sisterhood of empowerment, an organically growing non-profit organization that strives to decrease the gender disparity that exists in the technology industry. uCodeGirl works to activate the innovator in every girl by equipping them with computational thinking skills, leadership qualities and entrepreneurial mindset."
A mother of three boys Bethlehem, who is also the author of a children's book entitled The Alphabet Takes a Journey…Destination Ethiopia, was born and raised in Ethiopia and attended Addis Ababa University prior to working at the UN Economic Commission for Africa (ECA) office in the capital. She now resides in Fargo, North Dakota and overseas projects and manages teams working on healthcare related software at Intelligent InSites, a Fargo-based software company.
"We are thrilled to support this class of Fellows as they pursue the knowledge, connections and experiences that will help them be more effective leaders," said Bush Foundation President Jennifer Ford Reedy in a statement.
The Bush Fellowship counts among its alumni former Minnesota Governor Arne Carlson, Pulitzer Prize-winning playwright August Wilson, and President Obama's Special Assistant for Native American Affairs Karen Diver.
—
Related:
Tadias Interview with Children's Book Author Bethlehem Abera Gronneberg
Join the conversation on Twitter and Facebook.