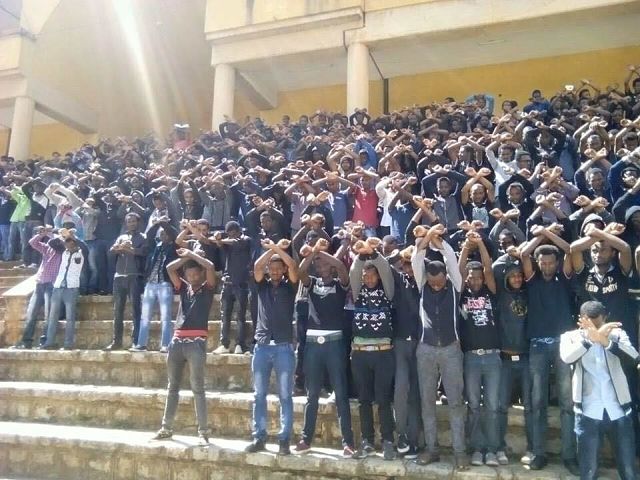 The Economist | From the print edition
Months of protests are rattling a fragile federation
ADDIS ABABA — AN OUTBREAK of public protest unprecedented in its duration and spread since the ruling party took power in Ethiopia in 1991 is stirring a rare cocktail of discontent. Demonstrations started in November mainly by members of the Oromo ethnic group, which accounts for about a third of Ethiopia's 97m-plus people, have refused to die down. Indeed, they have spread. The government has dropped its plan, the original cause of the hubbub, to expand the city limits of Addis Ababa, the capital, into Oromia, the largest of the federal republic's subdivisions of nine regional states and two city-states. But the protests have billowed into a much wider expression of outrage. People are complaining about land ownership, corruption, political repression and poverty. Such feelings go beyond just one ethnic group.
Human-rights advocates and independent monitors reckon that at least 80 people and perhaps as many as 250, mostly demonstrators, have been killed since the protests began. The government says the true figure is much lower and instead lays stress, as it always does, on terrorist and secessionist threats to the country's stability. It points out that foreign-owned factories have been attacked, churches burnt down and property looted by organised gangs during the protests. Last month seven federal policemen in the south were killed by local militiamen during a particularly violent wave of disturbances.
—
Related:
U.S. State Department, Human Rights Organizations Address Crackdown on Protestors in Ethiopia
Crackdown Turns Deadly In Ethiopia As Government Turns Against Protesters (NPR)
US Concerned About Protester Deaths in Ethiopia (VOA)
At least 75 killed in Ethiopia protests: HRW (AFP)
'Unprecedented' Protests in Ethiopia Against Capital Expansion Plan (VOA News)
Ethiopians on Edge as Infrastructure Plan Stirs Protests (The New York Times)
Opposition: More Than 40 Killed in Ethiopia Protests (VOA News)
Violent clashes in Ethiopia over 'master plan' to expand Addis (The Guardian)
Protests in Ethiopia leave at least five dead, possibly many more (Reuters)
Why Are Students in Ethiopia Protesting Against a Capital City Expansion Plan? (Global Voices)
Yet Again, a Bloody Crackdown on Protesters in Ethiopia (Human Rights Watch)
Anger Over 'Violent Crackdown' at Protest in Oromia, Ethiopia (BBC Video)
Ethiopian mother's anger at murdered son in student protests (BBC News)
Minnesota Senate Condemns Recent Violence in Ethiopia's Oromia State
The Brutal Crackdown on Ethiopia Protesters (Human Rights Watch)
Deadly Ethiopia Protest: At Least 17 Ambo Students Killed in Oromia State (VOA)
Ethiopia protest: Ambo students killed in Oromia state (BBC)
Students killed in violent confrontations with police in Ethiopia's largest state (AP)
Ethiopia: Oromia State Clashes Leave At Least 11 Students Dead (International Business Times)
Ethiopia: Discussing Ethnic Politics in Social Media (TADIAS)
Join the conversation on Twitter and Facebook.