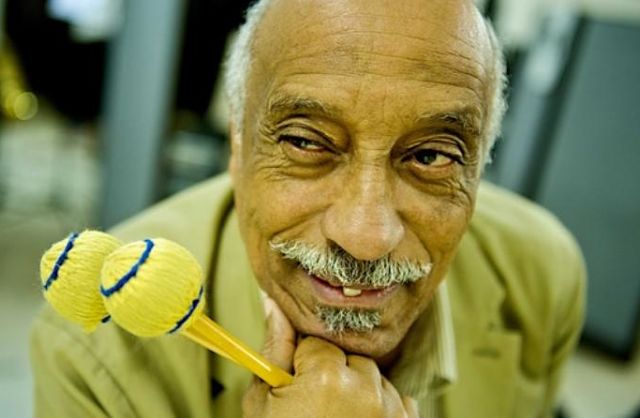 Mulatu Astatke remains a musician in motion
Ethiopian jazz master Mulatu Astatke will be taking a break from his extensive 2018 European concert tour to play at the 19th Cape Town International Jazz Festival in South Africa. This should come as no surprise given that he has been in global motion ever since his parents sent him to study aeronautical engineering in North Wales in 1956.
But Mulatu soon began trumpet lessons instead – he enrolled in London's Trinity School of Music. While in London he heard performances by Caribbean and West African musicians that evoked his memories of the big bands he had enjoyed back home in Ethiopia. These performances pushed him to consider new a direction.
Mulatu was the first African student to enrol at what would soon become the Berklee College of Music in Boston in 1958. There he traded in his trumpet for the vibraphone. In 1960 he lived in New York City, where he spent more than six years taking part in the world of American jazz, interacting with Latin musicians, making records and performing in concerts.
By the time Mulatu returned to Ethiopia later that decade, he had developed the concept of Ethio-jazz and was actively experimenting with this hybrid musical style. Ethio-jazz draws on multiple trends from the American jazz scene, including bebop and modal jazz combined with melodies and harmonies in the Ethiopian modal system.
Melding of sounds
Mulatu's innovations were anchored by his childhood memories of traditional Ethiopian secular and church music. It was further inflected by harmony classes at the Berklee School and welded by the experience of hearing and playing jazz in London, Boston and New York City.
Mulatu's pieces over the course of his career retain these early musical influences and a highly original mixture of sounds from places experienced on his lifelong itinerary.
An example is Mulatu's signature piece 'Yekermo Sew' (A Man of Experience and Wisdom) which was featured in the soundtrack of American independent filmmaker and screenwriter Jim Jarmusch's 2005 film Broken Flowers and then circulated across the world. Composed following Mulatu's return to Ethiopia in the late 1960s, 'Yekermo Sew' takes its title from a traditional Ethiopian Christian New Year's blessing in Amharic, the national Ethiopian language.
—
Join the conversation on Twitter and Facebook