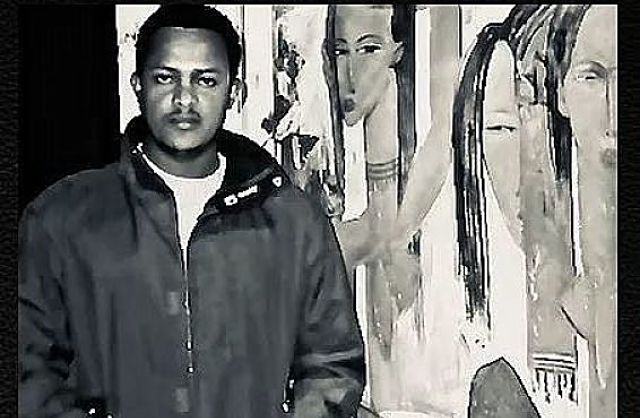 Tadias Magazine
By Tadias Staff
March 22th, 2018
New York (TADIAS) — The first time that we featured Fikru Gebre Mariam in Tadias Magazine in 2009 he was an up-and-coming artist commuting between his studios in Paris and Addis Ababa. The Tadias profile, which was written by the late American sociologist and scholar of Ethiopian culture and history Donald Levine, described Fikru's works as expressed in geometric abstraction. "They convey a blend of rich hues, emotional intensity, immediacy of impact, and a touch of austerity," Levine wrote. "Even so, there is no mistaking the deeply Ethiopian flavor of these paintings. They display hints of Ethiopian miniatures and church paintings. They are imbued with African earth tones. They use the colored garments of Harari women. They capture the somber mood of much Ethiopian life."
Fikru Gebre who is now based in Ethiopia full time is an internationally acclaimed artist and sought after by art lovers from around the world.
This week, the Arts Division of EDGIC Fine Art, Luxury & Media Corporation that caters to high-end global art collectors highlighted Fikru in a press release as their "STOP Times UP" feature saying: "The vision of selected Ethiopian EDGIC Artist Fikru Gebre Mariam saw the uprising of emotive influences that sought creation as "At the Red Light" original Art. He appreciates that the way of NOW is to subjugate oppression with the voice of what was once the voiceless through the veracity of experiences to power awareness in embracing unity for equality to be the order of the day."
EDGIC added: "To this end, Fikru Gebre Mariam brings forward the feminine consciousness to stand as a red light against the atrocities of misused male power. EDGIC Art Division recognizes the value that this great artist brings to the table of mankind and the current climate that has seen the upsurge of Times UP movement to accept that the art of this millennium defines people for peace to be the known reality of mankind. International acclaim has followed Fikru Gebre Mariam over the years, yet his humility is ever present as he acknowledges the power of preserving his art for generations of people to follow the integrity of standing tall in the very nature of their truth."
Fikru is a graduate of the Addis Ababa School of Fine Arts — founded by prominent artist Ale Felege Selam — where he was a protégé of instructor Tadesse Mesfin, who Levine said "not only taught him painterly skills but gave him a graphic theme which he would embrace, struggle with, and grow through, ever since."
—
You can learn more about Fikru Gebre Mariam and his work at http://fikrugebremariam.edgic.eu/ and you can view some of his paintings at https://www.pinterest.com/fikru-gebremariam-paintings/.
Join the conversation on Twitter and Facebook