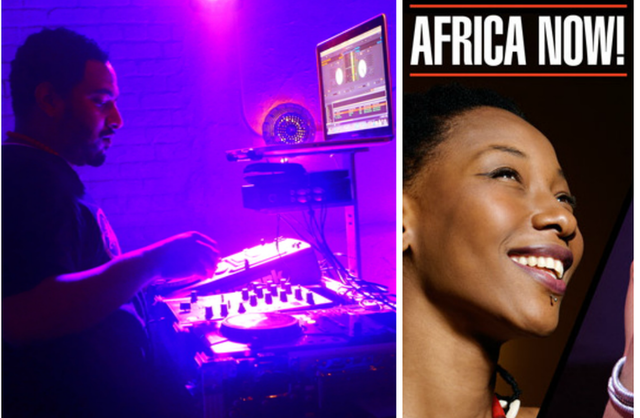 Tadias Magazine
By Tadias Staff
Published: Thursday, March 27th, 2014
New York (TADIAS) — Sirak Getachew (DJ Sirak) will be heading to Ethiopia in May to participate in the upcoming Tizita Music Festival in Addis Ababa (where he was born and raised until age nine). Prior to that, on Saturday April 5th he is scheduled to DJ at this year's "Africa Now!" concert at the world famous Apollo Theater in Harlem, New York.
DJ Sirak, who hosts the FM/online radio show Africology Radio, said he is still choosing cultural dance performers for the Apollo show that he recently started incorporating into his live appearances. "I think what attracted them about my selection is the fact that not only do I maneuver easily into West and South African music, but I also understand East African music," Sirak told Tadias.
On its website Apollo Theater states: "DJ Sirak adds depth to hip hop and djing by making Afrobeat a prominent influence on his style. Sirak arrived in the Bronx at age nine and struggled to keep his culture alive while adopting the culture of the graffiti-filled streets around him. Later on, as he established himself in the New York hip hop underground, he used the inspiration of his native Ethiopia to add an urgent yet smooth rhythm to the Bronx beats he created."
The four day popular music festival, which is in its second year, is organized by The Apollo Theater in partnership with World Music Institute and showcases talents from the contemporary African music scene. According to Apollo: "The festival's centerpiece event, a blow-out concert on the Apollo's Mainstage, will showcase a griot trio from Senegal, a roots-reggae/Afrobeat collective from Sierra Leone, and a dynamo diva from Mali. Other festival events include special Family Showtime and Apollo Music Cafe performances, late night dance parties, a film screening and much more."
Sirak said he is also preparing for an event at The Bronx Museum in mid-April called "Ethiopian Family Day" to raise funds for elementary school students in East Harlem who are planning to take a musical field trip to Ethiopia. "They will visit places like Yared School of Music, and meet with kids of their age who have the same artistic interests," he shared.
The April 5th "Africa Now!" concert promises to highlight the "amazing talents" of Fatoumata Diawara, Les Frères Guissé and Sierra Leone's Refugee All Stars.
—
If You Go:
Africa Now! Mainstage Concert
Presented by the Apollo Theater and World Music Institute
April 5, 2014 at 8pm
Event Location: Apollo Theater
Host: Wunmi
Music By: DJ Sirak
Tickets: $45, $35, $25
In person at the Apollo Box Office
By phone: 212.531.5305
Online at Ticketmaster.com
www.apollotheater.org
Join the conversation on Twitter and Facebook.