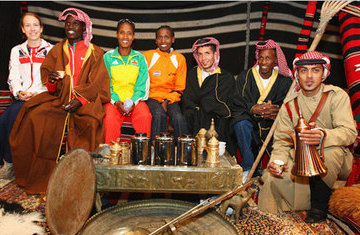 Above: Hilda Kibet, fourth from left, is the only runner
for the Dutch at the world cross-country championships.
(Michael Steele/Getty Images).

NYT
By CHRISTOPHER CLAREY
Published: March 27, 2009
AMMAN, Jordan — A few days before the world cross-country championships, the Kenyan and Ethiopian teams were training in a wooded park here in the middle of the Jordanian capital. The sport's established superpowers and rivals — Kenyans in their Nike gear and Ethiopians in Adidas — were in separate groups, gliding with little apparent effort over the uneven, dirt terrain on a tight loop that had never felt the footfalls of this kind of talent. Read more.
CNN: Gebremariam wins world cross for Ethiopia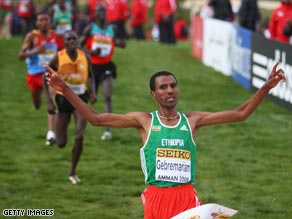 (CNN) — Gebre-egziabher Gebremariam kept the men's individual title at the world cross country championships in Ethiopia after winning a sprint finish to Saturday's championship in Jordan. Gebremariam took gold ahead of Ugandan Moses Kipsiro and Zersenay Tadese of Eritrea after a testing 12 kilometers over a course at the Bisharat Golf Course in Amman. He crossed the finishing line in 35 minutes and two seconds, two seconds clear of Kipsiro and 2007 champion Tadese who had the same time, putting daylight between himself and the other medal winners on a sharp rise before the run in to the finish. Read more at CNN.