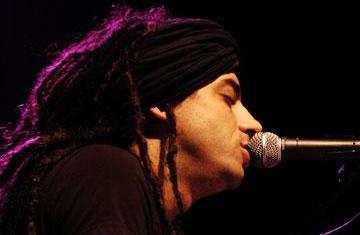 Above: The dreadlocked Israeli composer Idan Raichel,
who popularized the new fusion of Hebrew, Amharic and
Yemenite music, performs live at Divan du Monde, Paris,
October 23rd, 2006.

By ARON HELLER, The Associated Press
JERUSALEM — Israel's hottest musical export these days is a dreadlocked composer who pioneered a unique blend of Israeli, Ethiopian, Yemenite and Latin music from a makeshift recording studio in his parents' basement. Idan Raichel's musical fusion – consisting of catchy melodies mixed with Hebrew and Amharic lyrics sung by artists from Israel's community of Ethiopian Jewish immigrants – has conquered the charts in Israel and is now making waves abroad. Read more.