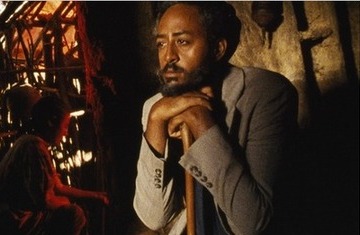 Above: Haile Gerima's new film, "Teza," stars the Ethiopian-
American actor Aaron Arefe as a man from a small village
who goes from idealistic student to political exile.
The New York Times
By LARRY ROHTER
Published: March 29, 2010
WASHINGTON — Among the courses Haile Gerima teaches at Howard University is one called "Film and Social Change." But for Mr. Gerima, an Ethiopian director and screenwriter who has lived here since the 1970s in what he calls self-exile, that subject is not just an academic concern: it is also what motivates him to make films with African and African-American themes. "Teza," which opens Friday at Lincoln Plaza Cinemas in Manhattan and means "Morning Dew" in the director's native Amharic, may be Mr. Gerima's most autobiographical movie yet. It traces the anguished course of an idealistic young intellectual named Anberber from his origins in a small village through his years as a medical student in Europe; his return to Ethiopia, where he ends up a casualty of the Marxist military revolution that overthrew Emperor Haile Selassie in 1974; and his exile to West Germany, where he becomes a victim of racism. Read more.
Related from Tadias Magazine:
A Conversation with Haile Gerima
Video: Watch the Trailer

If you Go:
TEZA – "Morning Dew"
A film by Haile Gerima & the makers of Sankofa
Premiere Exhibition in New York City @ Lincoln Plaza Cinema
1886 Broadway (at 62nd Street)
New York, NY 10023
(212) 757-2280
Opens April 2, 2010
Multiple Daily Screenings
Learn more at: www.tezathemovie.com
Advance tickets available starting Monday, March 29th at http://www.lincolnplazacinema.com
For group rates call 917-202-9944 or email info@tezathemovie.com
To volunteer email volunteer@tezathemovie.com