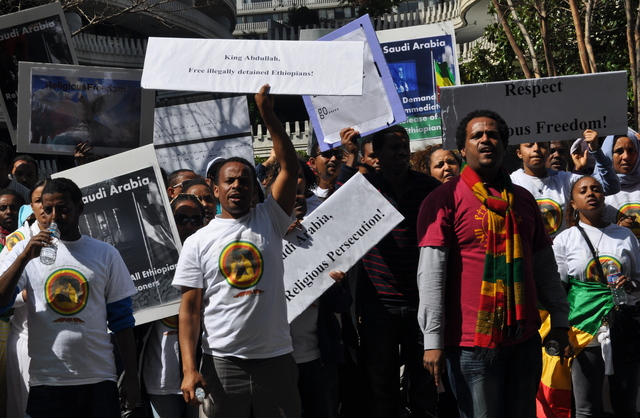 Tadias Magazine
By Tadias Staff
Published: Thursday, March 29, 2012
Washington, DC (TADIAS) – The Ethiopian community and the International Christian Concern (ICC) held a protest on Monday outside the Saudi Arabian Embassy in Washington DC demanding the kingdom release 35 Ethiopian Christians arrested on December 15 for praying at a private home in Jeddah.
"We organized the protest to express our outrage over the illegal and the indefinite detention of 35 Ethiopian Christians in Saudi Arabia," Jonathan Racho, ICC's Regional Manager, told Tadias Magazine. "We urged the Saudis to release the Christians and respect their religious freedom."
Racho said the prisoners situation is getting worse. "They don't receive proper medical attention and healthy food," he said. "They are kept in prison cells with convicted murderers and thieves."
He added: "They are concerned for their safety. We have talked to the Saudis about the situation. Unfortunately, the Saudi officials have not given us definite answer on why the Christians were imprisoned and when they will be released."
Below are photos from the March 26 protest in front of the Saudi Embassy in Washington DC.