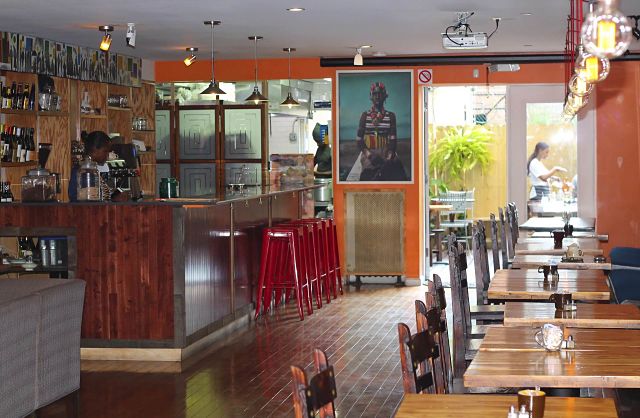 Tadias Magazine
By Tadias Staff
Published: March 29th, 2017
New York (TADIAS) — Tsion Cafe and Zoma restaurant are set to showcase their delicious Ethiopian cuisine at the 2017 Harlem EatUp Food Festival.
Co-founded by Marcus Samuelsson three years ago the popular annual fair highlights the eclectic mix of dining places found in New York City's uptown neighborhood. The 2017 Harlem EatUp Food Festival is scheduled to take place from May 15th to 21st.
This week Tsion Cafe won the qualifier contest sponsored by Citi Bank (@citi Market Challenge) to participate in this year's Harlem EatUp Festival "offering an exciting sampling of Harlem's sights, flavors and sounds, from artists of the kitchen, canvas, stage and streets."
"Today we came to showcase our rich Ethiopian food and we made a good representation of our cuisine and we won the challenge," said Beejhy Barhany, owner of Tsion cafe, in an interview with the local Fox5 TV station following the contest on Tuesday, March 28th.
Zoma restaurant:
Also featured at the 3rd annual Harlem EatUp Festival is Zoma restaurant, which has been around for more than a decade. "Henock Kejela is an Ethiopian-born restaurateur," notes the announcement. "His restaurant Zoma was opened in 2006 in Harlem, New York."

Zoma is located at 2084 Frederick Douglass Blvd (8th Ave) Corner of 113th st. New York. (ZomaNYC.com)
In addition, this year the festival includes an homage to Billie Holiday at the Apollo kick-off concert, as well as The Harlem Stroll – an outdoor event described as a "feast of a tasting presenting a collection of Harlem's favorite restaurants in an all-you-can-eat format." The EatUp! Main Stage, sponsored by Macy's, will also feature "live culinary demos and performances featuring Harlem's chefs, musicians and dancers alongside guests from NYC and beyond."
Watch: Welcome to Harlem EatUp

—
If You Go:
More info and tickets at harlemeatup.com.
Join the conversation on Twitter and Facebook.