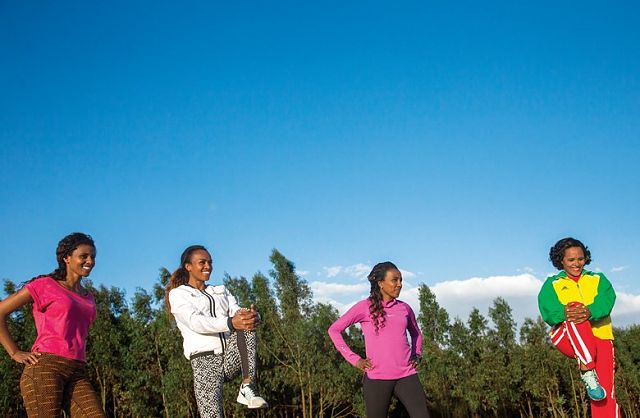 By CHLOE MALLE
The only sound at the top of the Entoto Mountains is the thwack of a cowherd's staff against the tree trunks as he leads his small herd of oxen home. I am doing my best to keep pace with Tirunesh Dibaba, 30, and her younger sister, Genzebe, 25, two wisplike Ethiopians with wide smiles and a fiercely close bond who may be the most formidable female track stars in the world. In the late-afternoon light high above central Addis Ababa, we zigzag between the majestic eucalyptus trees, paying heed to the uneven ground below and staying alert for the not-uncommon hyena sighting—no problem, the sisters assure me, as long as you clap loudly and throw a rock in the animal's direction.
The Dibabas' dominance in the field of distance running has captivated the track-and-field community. "There are a few running families, but not like the Dibabas," says the Ethiopian track legend Haile Gebrselassie. These are the only siblings in recorded history to hold concurrent world records, and they are as charmingly unassuming in person as they are fearsome on the track. The sisters were raised three hours south of here, in a tukul, or round mud hut, without electricity—their parents subsistence farmers growing teff, barley, and wheat. Their mother, Gutu, credits her daughters' success to a loving environment as well as a steady supply of milk from the family cows.
In fact there are seven Dibaba siblings, and all of them run. "What the Dibabas have is what Serena and Venus have, except there are more of them," says Ato Boldon, NBC's track analyst. "It's not a stretch to say they are the world's fastest family." Tirunesh is the most decorated, with three Olympic gold medals; Genzebe is tipped to win her first in Rio. Their older sister, Ejegayehu, 34, is an Olympian, too, with a silver from Athens, and their cousin Derartu Tulu was the first black African woman to win an Olympic gold, in the 1992 games. "World records, Olympic medals, world championships—the Dibabas' accomplishments are unprecedented in this sport," says Boldon.
With Rio on the horizon, the focus is squarely on Tirunesh and Genzebe. This is Tirunesh's comeback season after taking a year off to raise her now one-year-old son, Nathan; meanwhile, Genzebe had a record-breaking summer, decimating the competition in August's world championships and winning IAAF's Athlete of the Year award, a crowning glory in the sport. "Last year Genzebe was head and shoulders the best athlete in the world," says race coordinator Matt Turnbull, who has worked with the Dibabas for almost a decade. "And with Tiru being out for so long now, people are excited to see what will happen. They're a fiercely competitive family, and they really dictate the landscape."
—
Join the conversation on Twitter and Facebook.