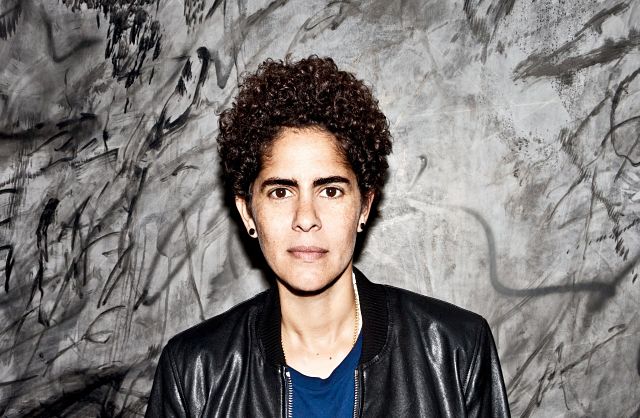 Tadias Magazine
By Tadias Staff
Updated: Friday, April 1st, 2016
New York (TADIAS) — This month, Julie Mehretu will be honored by the prestigious U.S. arts institution, The Skowhegan School of Painting, and receiving the medal for painting at its 70th anniversary celebration and 2016 Awards Dinner that will be held here in New York City on April 26th.
Last Fall, Julie was the only living female artist whose work was featured at Christie's postwar and contemporary sale, according to a New York Times article published this week highlighting "The Resurgence of Women-Only Art Shows" in the United States. The Times notes that "The Ethiopian-born painter was offered at Christie's postwar and contemporary sale, alongside 18 living male artists."
"Celebrated internationally for large-scale, gestural paintings, the Ethiopian-born artist addresses both the formal concerns of color and line and the social concerns of power, history, globalism, and personal narrative," said the announcement from Skowhegan.
Julie, who lives and works in New York, was born in Addis Ababa in 1970 and immigrated to the United States with her family in 1977. She has received numerous international recognitions for her work including the American Art Award from the Whitney Museum of American Art and the prestigious MacArthur Fellow award. She had residencies at the Museum of Fine Arts in Houston (1998–99), the Studio Museum in Harlem, New York (2001), the Walker Art Center, Minneapolis, Minnesota (2003), and the American Academy in Berlin (2007).
—
If You Go:
Skowhegan 70th Anniversary Celebration and 2016 Awards Dinner
Tuesday, APRIL 26, 2016
THE PLAZA — 768 5TH AVENUE AT 59TH STREET
NEW YORK CITY
COCKTAILS
6:30PM
DINNER & PROGRAM
7:30PM
GLAMOROUS DRESS
www.skowheganart.org/awardsdinner2016/
Related:
Julie Mehretu: An Abstract Artist Absorbing Multiple Identities (NBC News)
Julie Mehretu Awarded 2015 Medal of Arts by U.S. State Department
American Artist Lecture: Julie Mehretu at Tate Modern in London
Julie Mehretu on Africa's Emerging Presence in Contemporary Art
Join the conversation on Twitter and Facebook.