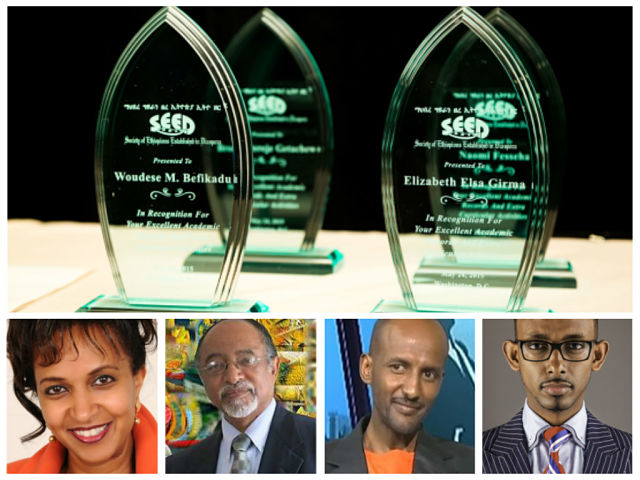 Tadias Magazine
By Tadias Staff
Published: Friday, April 1st, 2016
New York (TADIAS) — Since the early 1990′s the U.S.-based non-profit organization, the Society of Ethiopians Established in Diaspora (SEED), has been recognizing Ethiopian professionals, artists, students, elders and historical personalities for their "productive roles in society, their communities, and families." The organization announced this week that it will hold its 24th Annual Dinner and Awards Ceremony in the Washington, D.C. area on May 29th, 2016 at College Park Marriot Hotel in Hyattsville, Maryland.
The 2016 SEED honorees include Nini Legesse, founder and president of the Wegene Ethiopian Foundation; artist and educator Achamyeleh Debela; as well as Solomon M. Kassa, host of "Tech Talk" on EBS; and humanitarian Benyam Belete for his work in Ethiopia with Mekedonia, home for elderly and mentally challenged. The student honorees are Emanuel Fetene, Haimanot Shimelis, Sara Belay and Yonas Shiferaw.
Past recipients of the SEED award include Professor Donald N. Levine, Obang Metho, Menbere Aklilu, and the late Ambassador Zewde Retta and Rachel Beckwith.
In addition, SEED will posthumously honor Ras Alula Abba Nega this year. Per wiki: Ras Alula Engida (1827 – 1897), Known by his horse name Abba Nega, was "a general and Ethiopian politician. He was one of the important leaders of the Ethiopian armies of the 19th century and was described by Haggai Erlich as the greatest leader whom Abyssinia produced since the death of Emperor Tewodros II in 1868, and was referred to by Europeans as 'the Garibaldi of Abyssinia.' He participated in many battles for the independence of Ethiopia, most importantly Dogali and Adwa."
—
If You Go:
24th ANNUAL SEED AWARDS DINNER
Date: May 29, 2016
Time: 6PM – Midnight
Tickets: $75 online per person and $85 at the door
College Park Marriot Hotel
3501 University Blvd. E.
Hyattsville, MD 20783
​301-985-7300
www.ethioseed.com
Join the conversation on Twitter and Facebook.