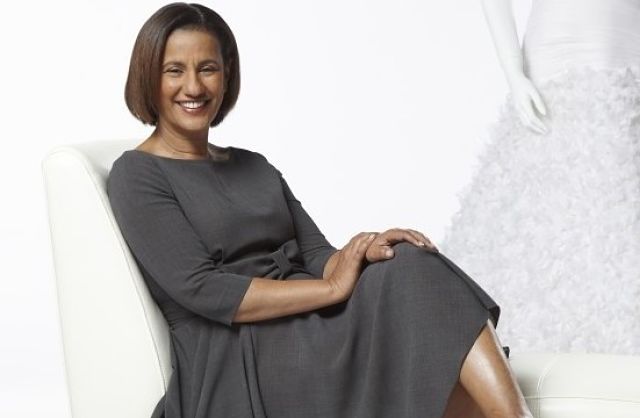 Tadias Magazine
By Tadias Staff
April 2nd, 2018
New York (TADIAS) — We are deeply saddened to report that Amsale Aberra, Ethiopian-American Founder and Creative Director of the bridal and fashion design house, AMSALE, passed away yesterday (April 1st). A statement from the company shares that Amsale "was surrounded by close friends and family at Memorial Sloan Kettering Hospital" where she was being treated for uterine cancer.
We featured a profile of Amsale Aberra on the first print version of Tadias Magazine in 2003. Sharing how she built her fashion house, Amsale reminisced about her days growing up as a teenager in Ethiopia and her love of making clothes. "Trying to make something by hand is always something that I liked…At the time I didn't know there was such a profession as designer" she told Tadias. Amsale had initially studied commercial art and pursued a degree in political science after she arrived in the United States in the early 70s before she attended the Fashion Institute of Technology (FIT) in New York.
"When I attended FIT that's when I truly felt like this is what I wanted to do. That's how I ended up being a designer," Amsale told Tadias in an interview on July 2011 shortly after her launch of the Amsale Girls Reality TV show.
In 1996 Amsale opened her flagship salon on Madison Avenue in New York and has since launched several lines including the elaborate Kenneth Pool Label (2003) and Nouvelle Amsale (2015).
Speaking about her work as Creative Director Amsale told Tadias that when she "started with AMSALE, which is about simplicity, it just needed to be very clean, and simple and modern. But all brides are not like that. Some brides may want something a little more elaborate." So she designed and launched the Kenneth Pool collection that she described as having "more shimmer, embroidery, it's very bold, very dramatic but yet it's still very sophisticated."
Numerous celebrities have dressed in AMSALE gowns for the red carpet including Halle Berry, Julia Roberts, Angela Bassett, and Salma Hayek. Her bridal and evening wear has been worn by actors in films such as Something Borrowed, When in Rome, and Runaway Bride as well as on TV including in Grey's Anatomy, Oprah Winfrey Show and The View.
Amsale had shared the design process that her team undertakes as incorporating inspiration and keeping in mind that everyone won't fit the same style.
"I really am very practical," Amsale had said when speaking about her bridal designs. "I mean does it work? Is it something not just only beautiful but is it functional? Brides will look beautiful if they are comfortable. The point of the whole day is for the bride to have fun after she looks amazingly beautiful."
Amsale, who was born in Addis Ababa in 1954, also shared her enthusiasm and admiration for the current generation of youth who are pursuing their dreams as designers, and offered a few words of wisdom for them: "What I really want to say to anyone is basically believe in yourself and don't ever think it's easy. It is hard and you have to keep that passion. You have to find a way to show it without quitting. Eventually things will happen. And that's what I would say to all designers."
Amsale was a member of the Council of Fashion Designers of America (CFDA), a Trustee and alum of the Fashion Institute of Technology (FIT), and served on the international advisory board of the Ethiopian Children's Fund. Amsale is "survived by her husband and partner, Clarence O'Neill Brown, known as "Neil", her daughter Rachel Amsale Brown, her father Aberra Moltot and her half-sister Aster Yilma. Amsale was 64 years old."
In a statement Neill Brown said: "Amsale was not only an inspiration to the company, but someone who inspired and impacted everyone around her with her strength, kindness, and humility. Working side by side we spent 360 degrees of our life together, and I know only too well both her creative genius and her infinite goodness. Words cannot express the personal loss that we feel, but we are comforted by the avalanche of support we've received and the commitment of our team to carry on Amsale's legacy."
Watch: Tadias Magazine's Interview With Bridal-Fashion Designer Amsale Aberra

Watch: Tadias TV Exclusive – Inside Amsale Aberra's Luxury Manhattan Boutique

–
Join the conversation on Twitter and Facebook.