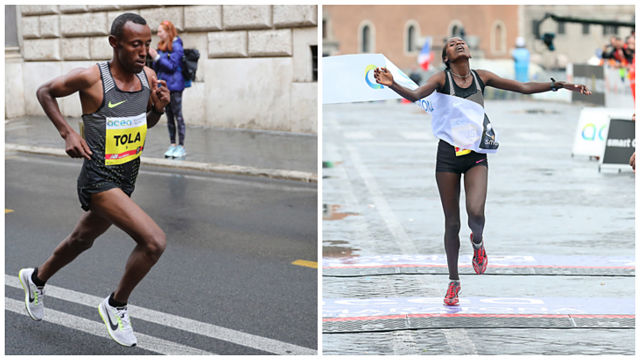 International Association of Athletics Federations
Shura Kitata clocks second-fastest time in Rome while Rahma Tusa retains title
Shura Kitata recorded the second-fastest time ever witnessed at the Acea Rome Marathon while fellow Ethiopian and training partner Rahma Tusa successfully defended her title at the IAAF Silver Label Road Race on Sunday (2).
With rain falling heavily in the Italian capital, the men's race set off at a quick pace. A quartet of pacemakers led the field through 5km in 14:49, 10km in 29:39 and 15km in 44:47 with the splits suggesting a sub-2:06 finishing time.
Seven men, not including the pacemakers, went through the half-way point in 1:03:25 and it appeared as though they still had a good chance of breaking the course record of 2:07:17 set in 2009 by Benjamin Kiptoo.
But the pace slipped after the last of the pacemakers dropped out at 30km. Four men – Kitata, fellow Ethiopians Werkunesh Seyoum and Solomon Lema, plus Kenya's Dominic Ruto – were left in the lead pack at that point.
Lema was the next to drop behind while the three other men ran together for another five kilometres and reached 35km in 1:46:03, 2:07:51 pace. Kitata knew that if he was to break the course record, he couldn't hang around any longer.
The 21-year-old Ethiopian pushed the pace and dropped his two remaining rivals, opening a gap of almost one minute over the course of five kilometres. Kitata saw the course record figures come and go on the clock before he reached the finish line but he still finished strongly to win in 2:07:30, taking more than a minute off the PB he set on his marathon debut in Shanghai in 2015.
"I am very happy with this victory, I was well trained and confident," said Kitata, who trains alongside world marathon champion Mare Dibaba. "My coach Haji Adilo had told me that I could even run under 2:07, but my manager Hussein Makke told me that it was important to win…The pace was very fast until after the first half, then it is a bit slow," he added. "At one point I decided to accelerate and it went well. In the end I tried to run as fast as possible to achieve the best time. It was not easy running in the rain."
–
Related:
LEADING RESULTS
Men
1 Shura Kitata (ETH) 2:07:30
2 Dominic Ruto (KEN) 2:09:10
3 Benjamin Bitok (KEN) 2:09:16
4 Mathew Kisaat (KEN) 2:09:19
5 Werkunesh Seyoum (ETH) 2:09:27
6 Solomon Lema (ETH) 2:12:18
7 Ahmed Nasef (ITA) 2:16:42
8 Carmine Buccilli (ITA) 2:19:35
Women
1 Rahma Tusa (ETH) 2:27:23
2 Mestawot Tadesse (ETH) 2:31:41
3 Abebe Tekulu (ETH) 2:32:08
4 Beatrice Cherop (KEN) 2:32:21
5 Halima Hussen (ETH) 2:35:01
6 Konjit Tilahun (ETH) 2:35:38
7 Wude Ayalew (ETH) 2:36:04
8 Meskerem Abera (ETH) 2:37:56
—
Join the conversation on Twitter and Facebook.