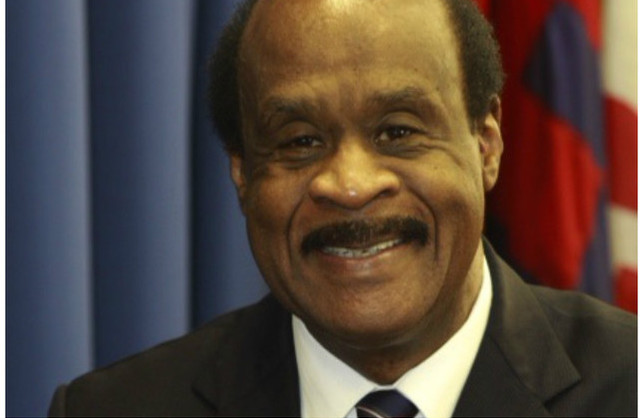 Tadias Magazine
By Tadias Staff
Published: Saturday, April 5th, 2014
New York (TADIAS) — How large is the Ethiopian community in Montgomery County, Maryland? "Well the county overall is 1.1 million residents and we have about 10% of that population from continental Africa," answered Isiah 'Ike' Leggett, the County's Executive, during a teleconference with Ethiopian media last week. "And from that ten percent, which is about 110,000, I think the best figure is somewhere in the neighborhood of 15,000 directly in the county, but it overlaps with two other counties in our region and Washington, D.C."
In fact, Mr. Leggett said that he had a recent meeting with a group from Washington, D.C. that established an office in Montgomery County to help them with providing some support to issue micro-loans to the Ethiopian community, for small businesses, restaurants, and people who are interested in purchasing tax services.  He emphasized: "We are trying to be more engaged and support some of those organizations from the economic development standpoint. Of course, we are promoting Ethiopian culture through our libraries, recreational facilities and within our schools as well. We are trying to address it from a cultural perspective, from an educational perspective, a business approach as well as simply trying to remove some of the obstacles for people who want to reside and stay in Montgomery County and in this country — to help them facilitate that process as well."
Organized by the Ethiopian-American Council (EAC) the press conference, which took place on Tuesday, April 1st, was intended to introduce Mr. Leggett to the larger Ethiopian community and to announce EAC's endorsement of his candidacy for a third term as Montgomery County Executive. Mr. Leggett took several questions from Ethiopian journalists on a range of issues that are pertinent to the Ethiopian-American community and residents of the county in general. Topics of discussion included immigration reform, jobs, education, business, access to health care, affordable housing, as well as his support for an Ethiopian community center and his trip to Ethiopia a year and a half ago to sign a sister city agreement between Montgomery County and the historic Ethiopian city of Gonder.
"I carried a delegation of about 60 people with me to Ethiopia for about ten days," Mr. Leggett said of his trip in the fall of 2012. "We had an opportunity to travel throughout the country with a signing ceremony in Gonder to establish our sister city relationship. The Ethiopian community in the county had expressed very strong views that they thought, and I believed them, that we should establish one of our sister city relationships with Gonder." He added: "We have several other [such agreements] including China and South Korea. But we thought given the history of Ethiopia and the many residential Ethiopians that are here in Montgomery county from Ethiopia who are contributing to our local economy, whether its in education or various professions, we were delighted that we had the opportunity to visit and to host many follow-up meetings with people from Gonder, Ethiopia and Montgomery county."
Regarding his stand on immigration reform Mr. Leggett, who is also the current President of the County Executives of America (a position he assumed in August of 2013), said he feels strongly about the issue at a national level. "First of all we start with the general premise of the county that we treat people with dignity and respect and make certain that the resources that we have in the county are available to all people — that we do not discriminate or we do not have hard core kinds of restrictions as it relates to the immigrant population in Montgomery County," he said. "That involves everything from health care to housing and to a variety of other resources that we provide in Montgomery County." He added: "We have a very large number of Ethiopians that serve on boards and committees throughout Montgomery county and our county government. Thirdly, we try to promote all kinds of cultural, religious and educational activities, which the Ethiopian community is an active part of. And fourthly, it's in the area of economic development that we're reaching out [and] working with the Ethiopian [business] community."
In addition, Mr. Leggett pointed out that his staff is constantly in contact with members of the Ethiopian community in Montgomery County "to make certain that we respond to many of their concerns" and to assist in creating an Ethiopian community center. Mr. Leggett continued: "For example, there is a very large festival event that was held in Maryland this past summer and Montgomery County played a part as host. We are working on a variety of fronts trying to ensure that we support a community center whereby there will be a common place where Ethiopians can consistently gather. And they do so now, but often times it's at different locations, its not as consistent, it's not as focused as we would want it to be. With a community center Mr. Legett shared that they can provide activities ranging  "from cultural events to religious events, or simply a meeting place that they would have as a common location within our county." Mr. Leggett emphasized that "more importantly, my office is and has opened its doors so that we can be supportive of what the Ethiopian community wants. I think that's the best response we can have. The more important side to this is to be receptive to the Ethiopian community and things that they would like to see us do and to have an ongoing dialogue. If you have that as a model and you are prepared to work aggressively with that, very positive things can happen."
According to his bio Leggett, who was initially elected as Montgomery County Executive in 2006 (and re-elected in 2010), was born in Deweyville, Texas in 1944. "Leggett attended Southern University in Baton Rouge, Louisiana and, after serving in the Vietnam War, earned a law degree from Howard University in Washington, D.C.  In 1986, he became the first African-American elected to the county council in Montgomery County, Maryland and served on the council through 2002. He remains the only African-American ever elected to that body at-large."
At the press conference last Tuesday Mr. Leggett repeatedly urged Ethiopian- Americans to volunteer in his campaign and noted that on the 27th of April, his wife is having "a large event in Silver Spring," an engagement, he stated, for women across the board "so she is encouraging Ethiopian women and others to come." He added: "That involvement provides a number of things because many years ago when I first moved into Montgomery County and got involved, I started by assisting other candidates and learning from them about the elements of politics and public service and I was able to expand from that to run for office myself at a lower level and eventually worked my way up to County Executive."
Mr. Leggett said that he hopes to see Ethiopian-Americans vying for elected office in the United States in future years: "So that you are not looking at Iike Leggett who is running for Country Executive or some other office and representing the views of the Ethiopian community, but you have people from Ethiopia or people with strong background and connection with Ethiopia who are running themselves, that's the progress that I want to see happen."
Below are clips of the audio from the teleconference.

—
You can learn more about County Executive Isiah 'Ike' Leggett at www.ikeleggett.org.
Video: Leggett Leads a Delegation to Gonder Ethiopia, Montgomery County's Sister City (2012)

Join the conversation on Twitter and Facebook.