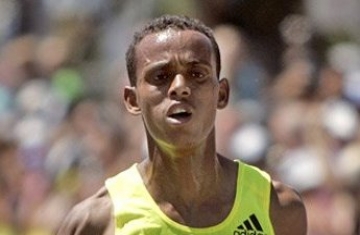 Above: Bekana Daba of Ethiopia takes the Carlsbad 5000
with a time of 13 minutes, 19 seconds. (Crissy Pascual /
Union-Tribune) -
Source: Union-Tribune
Late kick by Daba wins Carlsbad 5000
By Don Norcross, Union-Tribune Staff Writer
April 6, 2009
CARLSBAD – Matt Turnbull, who recruits the professional field for the Carlsbad 5000, received a call about 10 days ago from Mark Wetmore, one of running's most influential agents.
The conversation played out something like this.
Wetmore: "I've got a young Ethiopian. He's run some good races indoors this winter. I know you're full at Carlsbad, but if adidas paid part of his airfare and I kick in the rest, can we get him in?"
Turnbull: "I'd be more than happy to give him a spot."
A bit after high noon yesterday, on a sunny, postcard afternoon, 20-year-old Bekana Daba turned the corner onto Carlsbad Village Drive, running virtually side by side with fellow Ethiopian Abreham Cherkos. Read more.