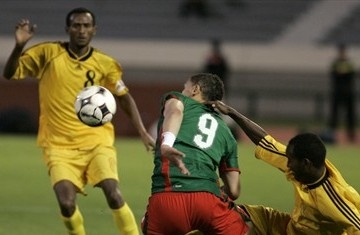 Above: Ethiopia's Grum Siyoum (R) fights for the
ball with Morocco's Benjalloun Abdessalam (C) during their 2010
World Cup qualifying soccer match in Casablanca May 31, 2008.
REUTERS/Rafael Marchante(MOROCCO)
Source: The Reporter (Ethiopia)
FIFA's road map to be put into effect
After a stand-off that lasted for over two years, pitting Ashebir Woldegiorgis on one hand and the existing general assembly of the Ethiopian Football Federation (EFF), on the other the latter yesterday accepted for the first time, the road map proposed by the international football governing body, FIFA.
FIFA could possibly retract its decision to ban the country from international competitions following a unanimous vote by the general assembly supporting its proposal and the outcomes of what is to proceed. Read more.
Ethiopia Booted Out of World Cup
Source: FIFA
Friday 12 September 2008
The Bureau of the Organising Committee for the FIFA World Cup™ has decided to exclude the Ethiopian Football Federation (EFF) from the preliminary competition with immediate effect.
All four matches played by Ethiopia to date in African zone Group 8, as well as the results of these matches, are now cancelled. This group now comprises three teams: Morocco, Mauritania and Rwanda.
The FIFA Emergency Committee suspended the EFF on 29 July 2008 due to the non-compliance of the EFF with the roadmap agreed in February 2008 by FIFA, CAF and the EFF in order to normalise the situation of the federation.
Ethiopia kicked out of World Cup (BBC)