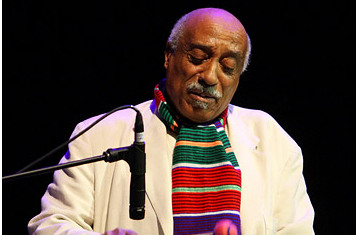 LA Weekly
By Jeff Weiss in weiss
Wednesday, April 8, 2009.
A Conversation With Mulatu Astatke: On Heliocentrics, Ethio-Jazz and Ellington
Rivaling Fela Kuti, King Sunny Ade, Franco, Tabu Ley Rochereau, and a handful of others, Mulatu Astatke ranks among the most influential African musicians of all-time. The father of Ethio-Jazz, the Berklee-trained Mulatu was the first of his countryman to fuse American jazz and funk, with native folk and Coptic Chuch melodies. The leading light of the "Swingin' Addis-"era, Astatke is often acknowledged as the star of the epic Ethiopiques Series, At least, according to filmmaker Jim Jarmusch, who included songs from the Mulatu-arranged and composed, Vol. 4, in his ode to midlife melancholia, Broken Flowers. Read More.
Related: Ace to Ace interview with Mulatu AstatkeMulatu Astatqe (VIDEO)
In the Ethiopian musical world Mulatu Astatke is atypical, totally unique, a legend unto himself. He was the first Ethiopian musician educated abroad, object of tribute and admiration. Mulatu is the the inventor and maybe the only musician of Ethio-Jazz (Jazz instrumentals with strong brass rythms and traditionnal elements of Ethiopian music). Watch the video here.