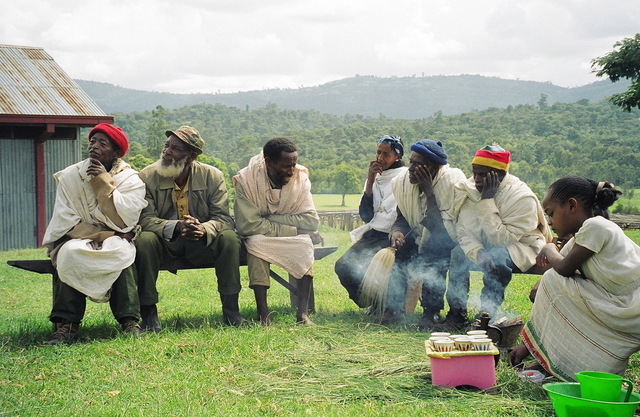 Tadias Magazine
Events News
Monday, April 9, 2012
New York (TADIAS) – The African Public Health Network (APHN) at Johns Hopkins School of Public Health in Baltimore, Maryland will host its annual Faces of Africa event series this week. The student and faculty-run association announced that the theme this year is "Africa: Solidarity for Lives, Sustainability for the Future." Faces of Africa commences today with a film screening of the documentary Black Gold - The Ethiopian Coffee Story, followed by a discussion about fair trade and foreign aid led by Dr. Stefan Baral, Associate Director for the Center for Public Health and Human Rights at Johns Hopkins School of Public Health.
If you go, here are the list of events for the week courtesy of APHN:
**MONDAY (April 9th)-Film Screening
W2030 @5:00-6:30pm
BLACK GOLD – The Ethiopian Coffee Story.
Refreshments will be served. A brief discussion about fair trade & foreign aid (TRADE vs AID) led by Dr. Stefan Baral to follow the movie and Ethiopian Coffee Ceremony.
Video: Black Gold – Trailer

Black Gold: Trailer from Speakit on Vimeo.
————————————————–
***TUESDAY (April 10th)-Keynote Address
Sheldon Hall @4:30-6pm
Join Pape Amadou Gaye, MBA – President and CEO, IntraHealth International who will discuss "Perspectives of Progress: Contextualized Interventions and Sustainable Strategies for Public and Population Health Across Africa". Reception to follow immediately at courtyard 1.
————————————————–
***WEDNESDAY (Aprilt 11th)-ReACH Panel on Somali crisis
Feinstone Hall @4:00-6pm
Raising Awareness of the Crisis in the Horn – expert panel, moderated by Robert S. Lawrence, MD (Director, Center for a Liveable Future). The first "food disparity" reception will follow immediately after panel. Follow along on Twitter and submit questions for Q&A (#REACHFOA2012). This event will be webcast live at www.jhsph.edu/REACHFOA2012.
————————————————–
***THURSDAY (April 12th)-Transition to NCDs presentation
W3030 @12:15-1:15pm
Bill Brieger, MPH, DRPH will address the "Future of Public Health in Africa: Transition to NCD's", focusing on the double burden of infectious disease and non-communicable disease, focusing on cardiovascular disease, cancer, diabetes, and mental health issues in Africa. Student Panel follows. Lunch will be provided
————————————————–
***FRIDAY (April 13th)-Celebrate Africa
Sommer Hall @4:00pm
FASHION SHOW; TASTE OF AFRICA and DANCE PARTY to follow on the 9th Floor. Celebrate the beauty and diversity of Africa with dress, dance, music, drama, and cuisine. Kicks off with fashion show in Sommer Hall with Food and dancing to follow in the 9th floor cafe.
—
Faces of Africa 2012 is sponsored by: the African Public Health Network, Student Assembly, Student Life, Alumni Relations, Gates Institute for Population and Reproductive Health, Center for Public Health and Human Rights, Center for a Livable Future, Center for Global Health, JB Grant International Society, Anna Baetjer Society, the Health and Human Rights Group, Black Graduate Student Association.