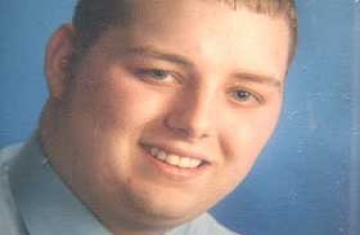 By Carly Lagrotteria and Eric Roper
Hatchet Staff Writers
An Ethiopian man has pleaded guilty to the murder of 2007 alumnus Brian Adkins, a Foreign Service officer found dead in his Ethiopia home this February, according to Adkins' family. Read More.
Related from the : THE COLUMBUS DISPATCH
By Theodore Decker
Friday, February 6, 2009
He'd watched the Eiffel Tower's light show from the top of the Arc de Triomphe and ridden a burro in Africa.
For Brian Adkins, 25, the world's treasures were as simple and marvelous as a hyena strolling down the road.
That was among the last stories the fledgling U.S. diplomat from Franklin County shared with his family, just a few weeks before his death last weekend in Ethiopia.
Adkins gleefully told his family that the hyena was one of the ugliest creatures he'd ever seen. But it was much more than that to him, and his excitement was contagious.
"It was Africa," his brother, Mike Adkins, said yesterday. "That's pretty much what he was telling you."
The death of a young man with such a passion for life and other cultures has left relatives devastated.
"He will probably be the most positive person we'll ever know in our lives," said his mother, Christine Adkins, who lives on the South Side.
Adkins, a foreign-service officer for the State Department in the Ethiopian capital of Addis Ababa, was found dead in his home by security officials checking on him. Read More.