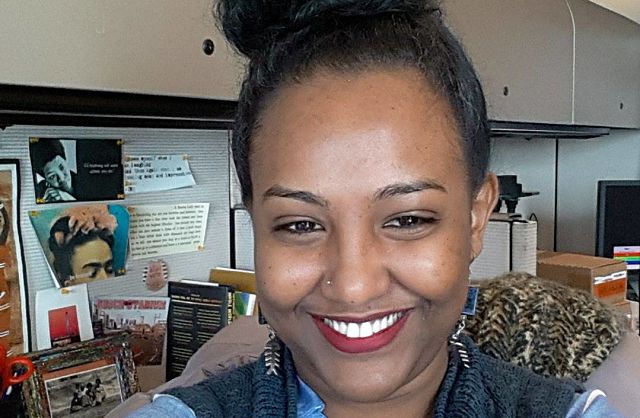 Tadias Magazine
By Tadias Staff
Published: April 14th, 2017
New York (TADIAS) — Genet Lakew knows first hand the value of scholarships when it comes to completing your higher education in the United States. The Ethiopian-American student finished her undergraduate studies at Howard University in Journalism and a master's degree from New York University focusing on Africana-Studies without incurring any debt. The 27-year-old who now works for the National Urban League as a digital communications professional has launched a personal initiative to establish the Mekonnen Family Scholarship that she says "will benefit college-bound students at Washington-Lee High School (W-L), a public high school in Arlington, Virginia," her alma mater.
"I'm an Ethiopian American millennial woman passionate about empowering the next generation of changemakers," Genet says on her online campaign page, explaining the purpose of the funds. "The scholarship is named in honor of the humble, hardworking immigrant family I come from, who poured their hopes and dreams into me. I want the names and memories of the souls who are no longer on earth to live on through this scholarship."
Genet adds: "My working class Ethiopian immigrant mother emphasized education as a gateway to opportunity and success. But she did not have the economic and social access to help me apply to colleges, visit campuses, pay for application fees, tuition, and housing. And that's where my community stepped in. The Minority Achievement Coordinator at W-L (Mr. James Sample) sent scholarships my way and I was able to start my freshman year at Howard University with a total of $8,000 in scholarships."
Genet's efforts are also attracting national media attention. In a recent interview with Vibe magazine Genet explained what inspired her to set up the scholarship. "I actually had this idea for a few years now. I've been out of college for six years this May," she said. "So I'm kind of going through these milestones; I'm in my late twenties, and I was reflecting on my educational journey." She added: "But it wasn't something I really thought I could pursue. I just realized how lucky I am to not have that financial burden. So I kind of felt it was my responsibility to give back in any way that I can. I felt this was a great time to offer something that shows support to immigrant students, and their families — to let them know not only do you belong in this country, but there is support out there for you to make sure that you have a good quality of life."
Click here to learn more and support the Mekonnen Family Scholarship »
—
Join the conversation on Twitter and Facebook.