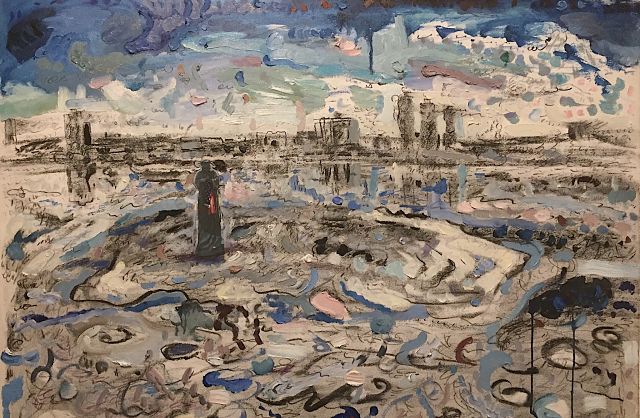 Tadias Magazine
By Tadias Staff
Published: April 13th, 2017
New York (TADIAS) — Next week an Art in FLUX exhibition, curated by Henone Girma, will open at ALOFT Harlem as part of the New York organization's mentoring initiative. The exhibition entitled Woe-nderland features five NYC-based artists including emerging Ethiopian American artist Tariku Shiferaw whose work we highlighted here last year. Additional participants include Belinda James, Ben Ponté, Elan Ferguson and JaSon Auguste. Tariku's work is currently part of the 2017 Whitney Biennial.
The show, which opens on Wednesday, April 19th, "presents works that evoke a collective feeling of world-weariness that saturates the current climate and paints an honest picture of lamentation apt for recent events," states Art in FLUX.
According to the press release "the title Woe-nderland takes as its point of departure the 1996 single 'If I Ruled the World' by recording artist Nas that begins with "Life, I wonder, will it take me under, I don't know" – a simultaneous testimony to the ills of society and contemplation of its potentials."
The press release adds: The exhibition offers a rather satirical lens through which we may reimagine our current social construct – this perhaps creating a timely opportunity for relating and purging.
About the Curator:
Henone Girma has been a gallery assistant at Art in FLUX since September 2016. She also works as a Research Associate for the Arts of Global Africa department at Newark Museum in New Jersey. She is a recent graduate from New York University with an MA in Visual Arts Administration. Henone wrote her final thesis on contemporary Ethiopian art as it relates to the art market. She hopes Woe-nderland will be the first of many exhibitions she will have the opportunity to curate as she continues her career as an arts advocate and professional.
—
If You Go:
Exhibition: Woe-nderland
Artists: Tariku Shiferaw, Belinda James, Ben Ponté, Elan Ferguson, and JaSon Auguste
Opening: Wednesday, April 19, 2017, 6:00 to 9:00 PM
Dates: April 19 through August 31, 2017
Location: Aloft Harlem, 2296 Frederick Douglass Blvd. between 123 and 124th Streets, NYC
Hours: Daily 7:00 AM to 7:00 PM
Info: www.artinfluxharlem.com
Join the conversation on Twitter and Facebook.