Beyoncé's Pregnancy Photographer Is Opening an 'Anti-Trump' Art Show
LOS ANGELES — By one measure of success, the 28-year-old artist Awol Erizku has possibly already peaked. In February he was revealed to be the photographer behind Beyoncé's pregnancy announcement, which quickly became the most popular Instagram post ever with over 10 million likes.
The image shows her kneeling in front of a floral wreath so large it looks like a throne.
But Mr. Erizku, who landed his first New York gallery show before he earned his M.F.A. from Yale, said that sort of record-breaking is not the attention he craves.
"It would have meant so much more if I had gotten recognition from the Whitney this year," he said, speaking of the Whitney Biennial — "this thing that every great artist I admire has had."
This is just one sign of how thoroughly the artist operates within the traditional biennial-obsessed art world, even as he manages through social media and other platforms to reach a much broader public. He D.J.s here and there and makes mixtapes to play during gallery shows to "make my peers feel welcome." At his Los Angeles studio recently, Mr. Erizku showed his new artwork while listening to Jim James, Future and Kodak Black.
That new work is heading to Europe for his first gallery exhibitions there: His defiantly anti-Trump show "Make America Great Again," at Ben Brown Fine Arts in London, opens on April 20, and his more playful "Purple Reign," at Stems in Brussels, opens a day later…
You can also see a Trump-era development: the image of a black panther, which he has lifted straight from the logo of the Black Panther Party, now roams throughout his work, climbing an American flag or clawing a bed of roses. It also appears atop the slogan "Make America Great Again" on a red baseball cap that the artist is selling "to have something affordable in the show."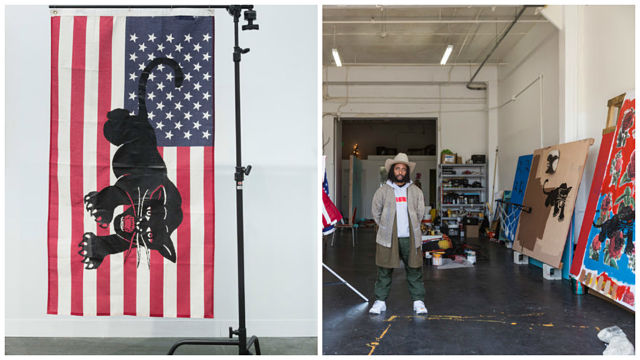 Works for Awol Erizku's coming exhibitions in his studio. (The New York Times)
As for the use of the panther image, "I don't want to take something so powerful and cheapen it by using it too much, like wallpaper. I want to give it more power," said Mr. Erizku, who speaks rapidly, enthusiastically. "I'm putting it out there because I'm black and I'm Muslim and this is everything Trump has tried to stand against."
"I don't think this show is anti-American, but it is definitely anti-Trump," he added. "All the people he's hating on do make America great."
—
Related:
Shaken & Stirred by Beauty: Review of Awol Erizku's New Flower (Addis Ababa) Exhibit (TADIAS)
Join the conversation on Twitter and Facebook.