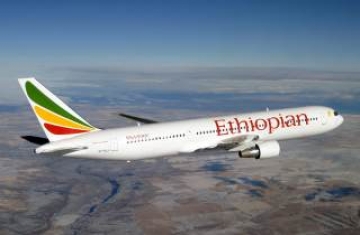 Source: Partner Concepts LLC
Published: April 16, 2009
Washington, D.C. — Ethiopian Airlines Journeys has partnered with the Archaeological Institute of America to introduce the Archaeology community to the best that East Africa has to offer.
On Tuesday, April 28th, the AIA will be celebrating its 130th anniversary with a Gala that honors Harrison Ford and the Samuel H. Kress Foundation. James Delgado, a renowned archaeologist, author, and television host, who has led many of the most important shipwreck expeditions of the last four decades, will host this extraordinary evening as the Master of Ceremonies. The AIA Gala will offer guests a unforgettable experience, providing a glimpse into ancient cultures and civilizations from all over the world. The AIA Gala will take place at Manhattan's Capitale building with over 450 guest expected to attend.
Ethiopian Airlines Journeys, along with the Tanzania Tourist Board, will be providing a once in a lifetime trip to East Africa that will be auctioned off live during the Gala. The Ethiopian package will feature stops in Axum, the reputed resting place of the "Ark of the Covenant", along with Lalibela, where travelers marvel at the 12 rock-hewn churches, carved from solid red volcanic rock in the 12th century by King Lalibela. In Tanzania, travelers will be able to visit the Olduvai Gorge, the "Cradle of Mankind" and Laetoli Footprints, where the Leakeys discovered the first humanoid skull 50 years ago.
This special Archaeology package will not only be auctioned off at the Gala, but will be added to the list of exciting packages that Ethiopian Airlines Journeys has to offer. Please visit www.seeyouinethiopia.com/archaeology for more information.
The Archaeological Institute of America will be featuring this package in their bi-monthly publication, Archaeology Magazine, as well as on www.archaeology.org. Ethiopian Airlines Journeys packages will be featured in the Gala's program and representatives of Ethiopian Airlines Journeys will be at the event to provide information and answer any questions about the packages.
"We are most pleased to begin this partnership with the Archaeology Institute of America and we look forward to showcasing our archaeological culture and history to American archaeologist," said Gobena Mikael, director of North and South America, Ethiopian Airlines. "Ethiopia and East Africa have always been a must visit location for archaeology enthusiast and now we are providing them with a once in a lifetime opportunity."
Meegan Daly, Director of Advertising with Archaeology Magazine commented, "The Archaeological Institute of America and ARCHAEOLOGY Magazine are thrilled to include this incredible trip to Ethiopia and Tanzania which will take two travelers to some of the worlds earliest and most extraordinary archaeological sites. We wish to acknowledge our generous sponsors for organizing such an exciting offering for our Gala's live auction which will be held on April 28th in New York at Capitale."
About Ethiopian Airlines Journeys
The finest vacation experiences in Ethiopia and East Africa begin with Ethiopian Airlines Journeys. Ethiopian Airlines Journeys is a single-source solution to plan and realize a truly authentic vacation in one of the most exciting and historical regions of Africa. The company provides the very best service, from friendly expert guides to comfortable accommodations to delightful meals to the most fascinating African experiences. This is all provided with total customization, built around each traveler's preferences and interests. Call toll-free 1-866-599-3797 or visit www.seeyouinethiopia.com for more information.
About Ethiopian Airlines
Ethiopian Airlines is one of the largest airlines in Africa serving 53 destinations around the globe. As the winner of the 2007 African Business of the Year and Best African Airline Award for 2006, its service and quality are unparalleled among African airlines. Featuring five flights weekly from Washington D.C.'s Dulles International Airport, the airline offers both morning and evening departures, with the morning departure allowing seamless connections to 32 African destinations. The airline's web site provides excellent information on additional flights, services and special web fares. For more information about Ethiopian Airlines, visit www.ethiopianairlines.com.
About Archaeological Institute of America
The Archaeological Institute of America (AIA) is North America's oldest and largest organization devoted to the world of archaeology. The Institute is a nonprofit group founded in 1879 and chartered by the United States Congress in 1906. Today, the AIA has nearly 9,000 members belonging to 102 local societies in the United States, Canada, and overseas. The organization is unique because it counts among its members professional archaeologists, students, and many others from all walks of life. This diverse group is united by a shared passion for archaeology and its role in furthering human knowledge. For more information, please visit www.archaeology.org.