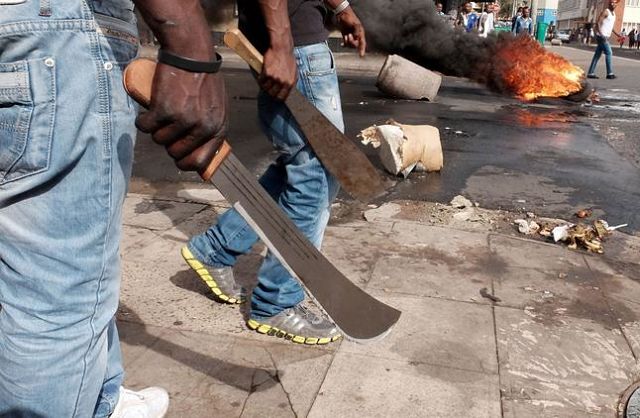 Tadias Magazine
By Tadias Staff
Published: Thursday, April 16th, 2015
New York (TADIAS) — In one of the most horrifying anti-immigrant mob attacks that's currently rocking South Africa, two young Ethiopian brothers are said to have been locked inside their small shop in a shipping container and set on fire last Friday in a township near Durban.
The Los Angeles Times reported that "Tesema Marcus, 22, died that night at a hospital, while his brother, Alex, 24, remains in a serious condition."
"It began after the Zulu king, Goodwill Zwelithini, told his followers last month that foreigners in South Africa should pack up and leave," according to LA Times. "President Jacob Zuma's eldest son, Edward, had also chimed in that foreigners were "taking over the country."
The report added: "Last week, violent attacks on immigrant shopkeepers in Durban townships exploded and have continued since. Dozens of immigrants in Johannesburg and other cities shuttered their shops Wednesday as anonymous cellphone text messages warned that Zulu people were coming to kill immigrants in neighborhoods with large migrant populations."
The spokesman for the Ethiopian Community Association, Dereje Fana, told LA Times that his office "had been pressing South African authorities to take attacks on immigrants more seriously" and to protect them and their property.
Dereje said the Zulu king is to blame for the provocative comments that launched the latest xenophobic violence. "We have heard it's going to continue," he said. "We're trying to highlight it and bring it to the attention of the authorities, to create awareness and protect their lives and protect their businesses."
CNN noted that "more than 2,000 people fled to South African police stations Thursday after mobs with machetes attacked immigrants in Durban, leaving at least five people dead, an aid group said. The attacks in Durban killed two immigrants and three South Africans, including a 14-year-old boy, authorities said."
"There has been an outpouring of support from ordinary South Africans who are disgusted with the attacks not only because they are foreign, or African, but because they are fellow human beings," said Gift of the Givers charity, which is helping those seeking refuge at police stations. "We are preparing aid packages for those who may journey onwards to their home countries."

—
Related:
Thousands flee after South Africa mobs attack immigrants (CNN)
South Africa grapples with outbreak of anti-immigrant violence (The Los Angeles Times)
Join the conversation on Twitter and Facebook.