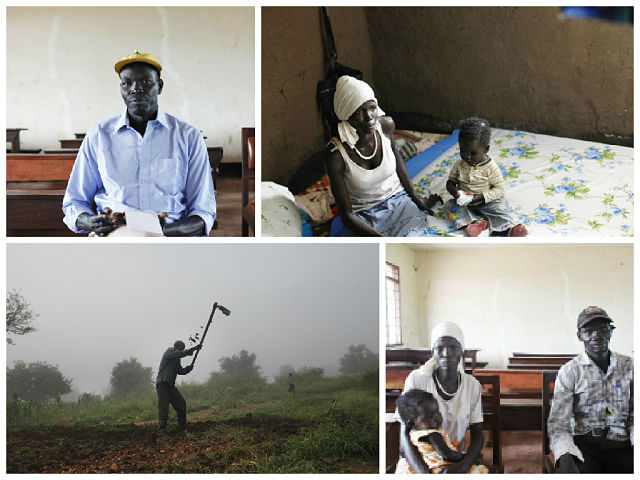 By Sasha Chavkin
Thursday, APRIL 16, 2015
The soldiers pointed their guns at Odoge Otiri and led the 22-year-old student into the forest outside his village in western Ethiopia. Then, he says, they began pounding him with their nightsticks, leaving him bloody and unmoving.
"I was unconscious," he recalls. "The reason they left me is they thought I was going to die."
That night, soldiers arrested his wife, Aduma Omot.
"The soldiers took me to their camp," she says. "Then they mistreated me, they raped me."
They held her for two days, she says, before they let her go.
The soldiers attacked them, Otiri says, because he opposed Ethiopian authorities' efforts to force him and his neighbors from their homes as part of the country's so-called "villagization" effort — a massive social engineering project that sought to move almost 2 million poor people to newly built sites selected by the government.
Otiri and Omot are among thousands of Anuak, a mostly Christian indigenous group from the rural Ethiopian state of Gambella, who have fled from Ethiopia's mass relocation campaign.
The Ethiopian government financed the evictions in part by tapping into a pool of aid money from the world's most influential development lender, the World Bank, two former Ethiopian officials who helped carry out the relocation program told the International Consortium of Investigative Journalists. The money, the former officials said, was diverted from the $2 billion in funding that the World Bank had put into a health and education initiative.
The World Bank strongly disputes that its money supported the mass evictions in western Ethiopia. Even as Anuak refugees and human rights groups have publicly charged that World Bank money has been used to bankroll brutal evictions, the bank has continued to send hundreds of millions of dollars into the same health and education program.
"We are confident that the money was used for the purposes intended," Greg Toulmin, the World Bank's country program coordinator for Ethiopia, told ICIJ in March. "We remain confident that there was no link."
New evidence gathered by ICIJ undermines the bank's continuing denials that its money bankrolled the evictions.
Read more and watch video at huffingtonpost.com »
—
Join the conversation on Twitter and Facebook.