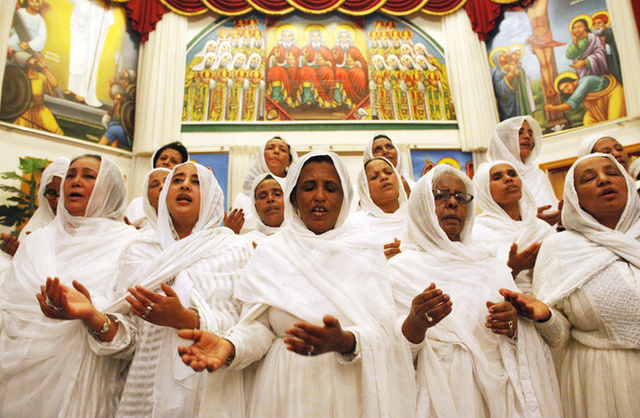 Click here to view more photos at The Seattle Times.
Ethiopian Christians celebrate Fasika in Toronto (The Globe and Mail)
Photo report: Ethiopian Orthodox Easter (Radio Netherlands)
Ethiopian Easter Mass in Jerusalem (The Irish Times)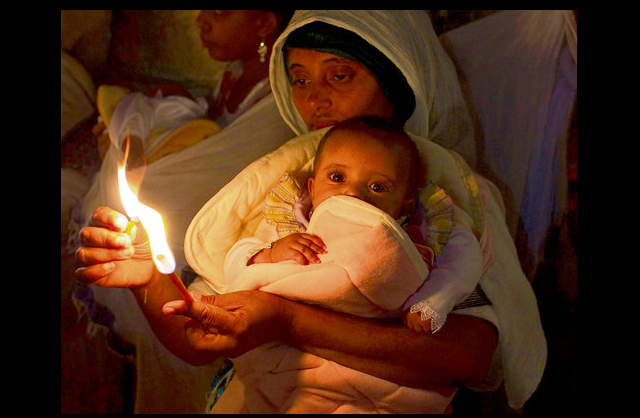 An Ethiopian Orthodox worshipper and her baby attending [service] at the Ethiopian section of the Church of the Holy Sepulchre in Jerusalem on Saturday. (Photograph: Darren Whiteside)
KHAN AL-ZEIT street is alive, with light, delicate pastries stuffed with nuts and dates nestling in plastic boxes. We brush past silk scarves and Palestinian embroidered dresses hanging at the entrances of shops and glimpse glittering gold necklaces in a window display designed to entice wealthy pilgrims to make generous presents in this season of renewal.
Vendors proffer tins of juice and cola. We hurry, determined not to miss the Ethiopian Easter Mass on the roof of the Church of the Holy Sepulchre.
Just beyond the opening to the Via Dolorosa, where Christ bore his cross to Calvary, we ascend to the roof up steps and a ramp in a tight press of patient, quiet Ethiopians. Abi cadges a slender candle off a neighbour and hands it to me. "For later," Abi remarks.
On the other side of a metal fence the Israeli police have erected to divide the narrow passage, young men, who have made an acte de presence at the Mass, are striding away to cafes to while away the solemn hours before the joyful resurrection.
Read more at the The Irish Times.
–