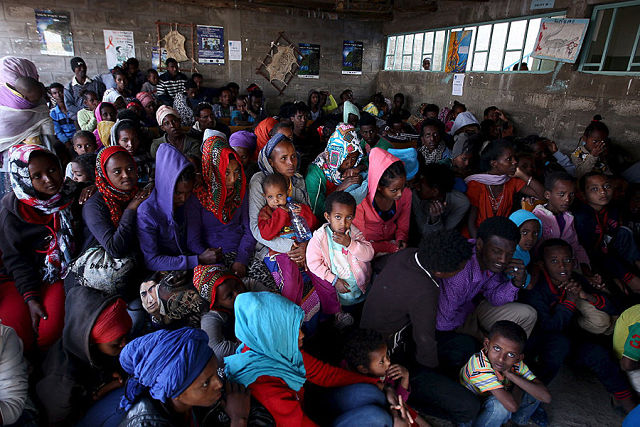 BADME, ALONG THE ERITREAN-ETHIOPIAN BORDER —When Yordanos and her two young children slipped safely across the Mereb riverbed between Eritrea and Ethiopia late one recent night, they thought the worst of their journey into exile was over. The smuggler had done his job, and they were safely over the border.
Then they heard the hyenas.
Yordanos and her children began to yell for help, their panicked calls fading into the solid darkness. Suddenly, she saw a group of Ethiopian soldiers coming towards them. The men comforted the young families, and then escorted them to the nearby town of Badme. "They were like brothers to us," says Yordanos, who asked that her last name not be used for fear of reprisals from the Eritrean government against her relatives at home.
In some regards, Ethiopia – and in particular this sliver of Ethiopia's arid north – is the last place you might expect an Eritrean refugee like Yordanos to receive a warm welcome. In 1998, after all, an Eritrean invasion of this sleepy border town touched off a two-year war between the two countries that cost tens of thousands of lives and more than $4.5 billion, along with destroying most of the then-flourishing network of trade between the two countries. And before that conflict, Eritreans fought a 30-year civil war for independence from Ethiopia, which ended only in 1991.
Even today, the ashes of those conflicts still smolder. The internationally-brokered peace settlement ending the 1998-2000 war decreed that Ethiopia should give this region of the country back to Eritrea, which claims it as historical land. But Ethiopia never did, and border clashes between the two countries' militaries continue into the present.
Still, Yordanos' story is not uncommon. Fleeing enforced, indefinite military service, illegal imprisonment, and torture, about 165,000 Eritrean refugees and asylum seekers currently live in Ethiopia, according to the United Nations. Upon arrival and registration, they are automatically granted refugee status, and the country continues to welcome more. In February of this year alone, 3,367 new Eritrean refugees arrived in the country, according to Ethiopia's Administration for Refugee and Returnee Affairs (ARRA).
—
Join the conversation on Twitter and Facebook.