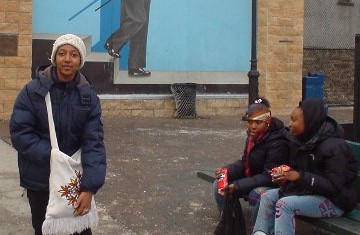 Above: Tseday Alehegn during her walks through Harlem with Tesfaye Tessema
By Tseday Alehegn
Before arriving at Artist Tesfaye's studio in Harlem, his home of twenty years, we took a tour of historic areas where Ethiopian and African-American ties runs deep and undisturbed. We traversed slowly and observantly across Adam Clayton Powell Boulevard, named after the fiery pastor of Harlem's legendary Abyssinian Baptist Church, and walked through African Square, lined with colorful West African vendors and stores. Continuing our promenade towards Lenox Avenue, we spotted an Ethiopian-owned cafe called Settepani, a popular hangout for Harlem's young elite. As we strolled by Jackie Robinson's Park, a young African American man, recognizing our Ethiopian ancestry, smiled and greeted us with a hearty Tenayistelegn!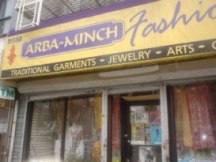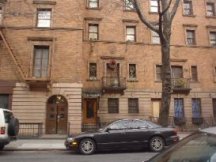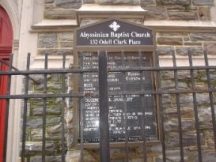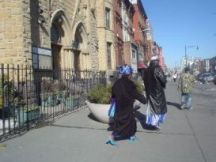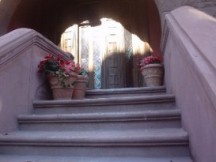 Above: Top left, Jackie Robinson's Park; Middle Right, Harlem's legendary Abyssinian Baptist Church. Photos by Tseday Alehegn
Walking through Harlem with Tess (as he is known in Harlem), two things become quickly evident: The first being that this neighborhood has, as the artist tells us, "a feeling of home." And the latter, that his love for this community fuels his art.


Above: Tesfaye Tessema in Brooklyn, New York. Photo by Liben Eabisa
One of his recent exhibitions at Skoto Gallery in New York (one of the first galleries to specialize in contemporary African Art in the United States), was entitled Addis Improvisations: Art from Harlem. This series is an afrocentric, jazzy-expression of joint heritage.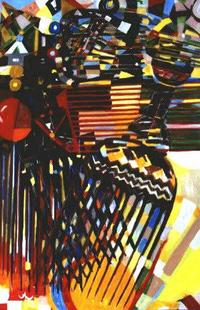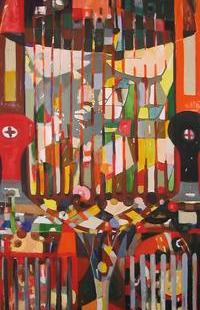 Above: Left, Addis Improvisation III, 2004, acrylic on canvas, 72×54 inches. Right, Addis Improvisation I, 2004, acrylic on canvas, 72″x39″. Photos courtesy of Skoto Gallery.
Tesfaye's journey to Harlem can be traced back to his early high school days, when he was a student at Menelik High School in Addis Ababa. On one particular day, his class was excused and students were asked to attend a special gathering at the National Theatre. "We were told that an important person from Harlem had arrived, and we saw several men dressed in fancy suits setting up their musical instruments on stage. Their leader was called Duke Ellington," he recalls. The young Tesfaye was mesmerized as the concert began with Ellington's famous "A-Train" composition. This extraordinary opportunity to listen to Ellington play jazz remained etched in Tesfaye's mind, his first introduction to jazz and to Harlem.
Many years later, after arriving in Washington, D.C. to pursue a Masters of Fine Arts at
Howard University, he developed lasting friendships within the African-American community, and rekindled his passion for Harlem. After completing his art studies, Tesfaye moved to Harlem. He now lives in the same building where Duke Ellington once resided. "I feel at home here," he says. "I tell my African-American friends that, just as they look for their roots, I search for my branches. Together we form a tree."
Harlem, and jazz in particular, have profoundly impacted Tesfaye's art. Speaking about his career as an artist, he says, "My art lately is an improvisation. I consider myself a jazz painter. I play jazz with my brush."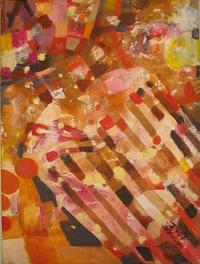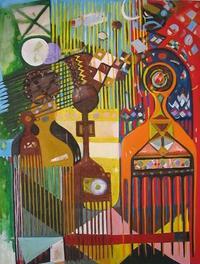 Above: Left, 155th/Amsterdam Avenue II, 2003, acrylic on canvas, 24″x16″. Right, Addis Improvisation V, 2004, acrylic on canvas, 72″x54″. Photos courtesy of Skoto Gallery.
Art itself had also been an integral part of Tesfaye's childhood experience. "I've known art since I knew myself," he says. "While other children played together, I grew up in a household with no other children, so art became my game. I played art. I drew on walls with charcoal, and I looked around for natural objects to create color – green from leaves and yellow from mustard," he shares. "Whenever I accompanied my mother to church, I used to stare at the paintings on the walls during prayers. To me, this art was able to express spiritual concepts that are not as easily expressed through words." After attending Menelik school, Tesfaye longed to enter the National Fine Arts School — conveniently located right next door. He was accepted and commenced formal studies in art there before going on to pursue graduate studies at Howard.
Tesfaye Tessema is not only a master painter but also a master print maker and a muralist. He also uses etching, lithography, and mixed media. His art has been collected by prestigious institutions, such as the Library of Congress, the Smithsonian in Washington, D.C., the Schomburg Center for Research in Black Culture and the United Nations in New York City. Alongside the works of famous African-American artists such as Romare Bearden, Tesfaye Tessema's paintings are prominently featured in the Schomburg Center's publication Black New York Artists of the 20th Century. The United Nations transformed one of his paintings into a stamp that raised over $300,000 for famine relief in Ethiopia. He was also commissioned to paint a mural by the Museum of African Arts (the Smithsonian) on Capitol Hill. Tesfaye stands as one of the only contemporary Ethiopian artists to display his artwork at established institutions like the Guggenheim Museum in New York. His art has been exhibited at various universities throughout the U.S. as well as internationally in France,Germany, England, Japan, and many other countries.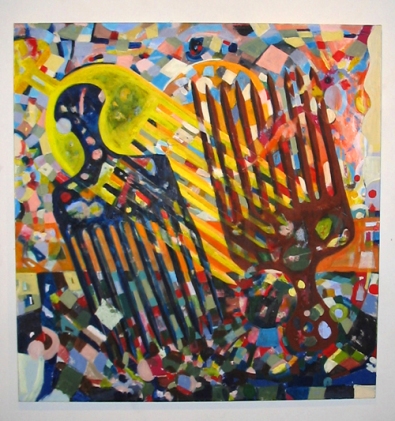 Above: Addis Improvisation IV, 2004, acrylic on canvas, 56″x54″. Photo courtesy of Skoto Gallery.
Throughout his career, Tesfaye has emphasized his appreciation for public art. "I think people have the right to claim my art," he says, seeing art as his service to individuals and contribution to the public in general. He uses the sights and sounds of his two communities, Ethiopian and African-American, to make art that positively reinforces their harmony.
"I would really like the world to know that all of us are artists," he says. "There are no special people made to be artists. What comes out on the canvas is what we've all taken in from our environment, expressed through our own personal interpretation."
A Harlem moment with Tesfaye teaches us to appreciate not only the art but also the artist.
———————–
About the Author:



Tseday Alehegn is the Editor-in-Chief of Tadias Magazine. Tseday is a graduate of Stanford University (both B.A. & M.A.). In addition to her responsibilities at Tadias, she is also a Doctoral student at Columbia University.