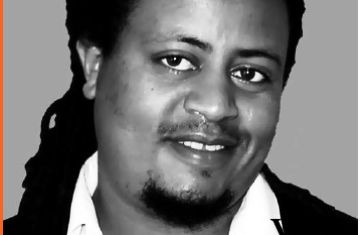 Born in Ethiopia, Yadesa, also known as Yaddi, immigrated to the United States in 1995. Yaddi showed an interest in art since his early childhood. Even though he does not remember when he started painting, as a sixth grader his school commissioned him to paint a mural.
Yaddi's first exposure and memories of art was as a child gazing at murals often found in Ethiopian Orthodox churches. These murals used line drawings filled with bold, vibrant colors.
In Seattle, Yaddi studied art at Seattle Pacific University where he earned his Bachelors degree in Visual Communication. He also attended Seattle Central Community College and received an Associates of Art degree in Graphic Design.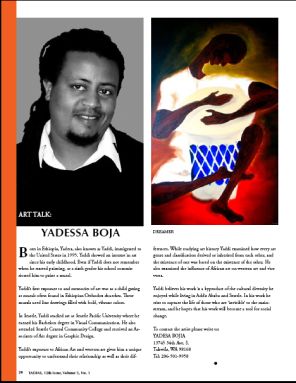 Yaddi's exposure to African Art and western art gives him a unique opportunity to understand their relationship as well as their differences. While studying art history Yaddi examined how every art genre and classification derived or inherited from each other, and the existence of one was based on the existence of the other. He also examined the influence of African art on western art and vice versa.
Yaddi believes his work is a byproduct of the cultural diversity he enjoyed while living in Addis Ababa and Seattle. In his work he tries to capture the life of those who are 'invisible' to the mainstream, and he hopes that his work will become a tool for social change.
—-
To contact the artist please write to: YADESA BOJIA, 13745 34th Ave. S. Tukwila, WA 98168 Tel: 206-501-9958