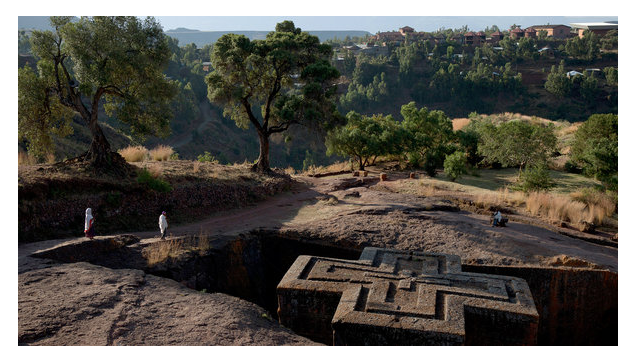 The New York Times
By HOLLAND COTTER
Published: April 20, 2012
LALIBELA, Ethiopia – ON the roads through Ethiopia's highlands traffic raises a brick-red haze that coats your clothes, powders your skin and starts a creaking in your lungs. Despite the dust people wear white. Farmers wrap themselves in bleached cotton. Village funerals look like fields of snow. At churches and shrines white is the pilgrim's color. I wear it too, protectively: long-sleeved white shirt, tennis cap, Neutrogena sun block. A pilgrim? Why not?
I'm here for something I've longed to see, Ethiopia's holy cities: Aksum, the spiritual home of this east African country's Orthodox Christian faith and, especially, the mountain town of Lalibela, with its cluster of 13th-century churches some 200 miles to the south. Lalibela was conceived as a paradise on earth. And its 11 churches, cut from living volcanic rock, are literally anchored in the earth. In scale, number, and variety of form there's no architecture or sculpture quite like them anywhere. They're on the global tourist route now, though barely. To Ethiopian devotees they've been spiritual lodestars for eight centuries, and continue to be.
Read more at The New York Times.