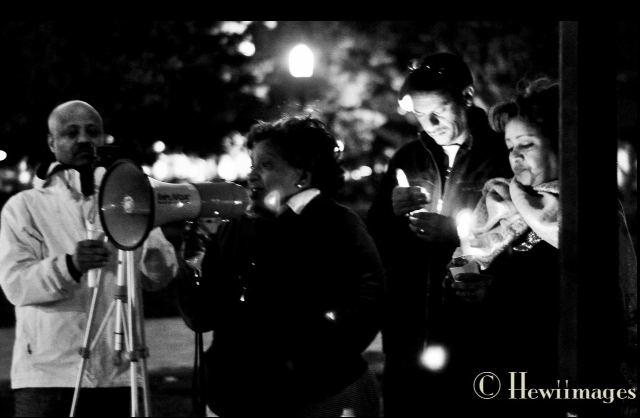 Tadias Magazine
By Tadias Staff
Published: Friday, April 20, 2012
New York (TADIAS) – Five weeks later, the reverberations from the death of 33-year old Ethiopian domestic worker Alem Dechasa in Lebanon are still being felt in the Ethiopian community. Last month we reported that the videotaped beating and death of the mother of two children has shaken the Ethiopian Diaspora and spurred action. A few days after the tragic news broke in March, a crowdmapping website was launched to track and report – in real time – incidents of domestic help abuse throughout the Middle East. The portal, the first of its kind for this purpose, was conceived by a Washington D.C.-based Ethiopian designer with experience in data visualization techniques. Now another network of professionals and students have announced the launch of Justice4Alem, an organization made up of volunteers from various backgrounds including law, public health, information technology, business, and health care, to raise awareness about the issue and to demand accountability from public officials.
"Justice4Alem was formed with the objective of urging the governments of the involved countries to implement systemic reforms to prevent such abuses in the future," the group said in a statement emailed to Tadias Magazine.
"We are urging non-governmental and governmental organizations including U.S. Department of State, Human Rights Watch, Amnesty International, International Labor Organization (ILO) and others to work with the involved governments to amend labor laws focusing on domestic workers and to ensure that it guarantees protections equal to those afforded to other workers."
"In Lebanon alone, there are approximately 50,000 Ethiopian migrants and Saudi Arabia has also recently requested 45,000 Ethiopian domestic migrant workers per month," the statement noted. "Yet gaps in labor laws and the consequences of the kafala system in many countries create conditions that facilitate abuse of Ethiopian migrant workers. Many organizations such as Human Rights Watch have documented abuses including nonpayment of wages, forced confinement in the workplace, confiscation of passports, excessive work hours with little rest, and physical and sexual abuse."
The group added: "Human Rights Watch estimates that on average, one worker per week is dying most often by committing suicide or trying to escape from their employer. For this reason, we have created this project to raise awareness and to demand the rights of our fellow human beings."
Justice4Alem is holding a candlelight vigil in Boston on Saturday, April 21st and in Paris on April 28th. The organization held its first gathering in Washington, D.C. in front of the White House on April 7th.
Below are photos from the D.C. vigil courtesy of Justice4Alem.
—
Video: An Impossible Decision and a Lonely Death (The Guardian)

—
Related:
Ethiopian & Lebanese Reactions to the Death of Alem (The Huffington Post)
UN urges Lebanon to investigate Ethiopian maid's death (BBC)
Ethiopians in Lebanon Protest their Consulate's Apathy, Callousness (The Daily Star)
Ethiopia's consul general in Lebanon says I have learned a 'big lesson' (The Daily Star)
Ethiopia Seeks Full Investigation Into Alem Dechassa's Death (The Guardian)
In Memory of Alem Dechassa: Reporting & Mapping Domestic Migrant Worker Abuse (TADIAS)
Lebanon cannot be 'civilised' while domestic workers are abused (The Guardian)
Photos: Vigil for Alem Dechassa Outside Lebanon Embassy in D.C. (TADIAS)
Ethiopia Sues Lebanese Man Over Beating of Domestic Worker (The Daily Star)
Ethiopian Abused in Lebanon Said to Have Committed Suicide (The New York Times)
In Lebanon Abuse Video of Ethiopian Domestic Worker Surfaces (TADIAS)
—
More Photos:
Vigil for Alem Dechassa Outside Lebanon Embassy in D.C. – March 15, 2012 (TADIAS)