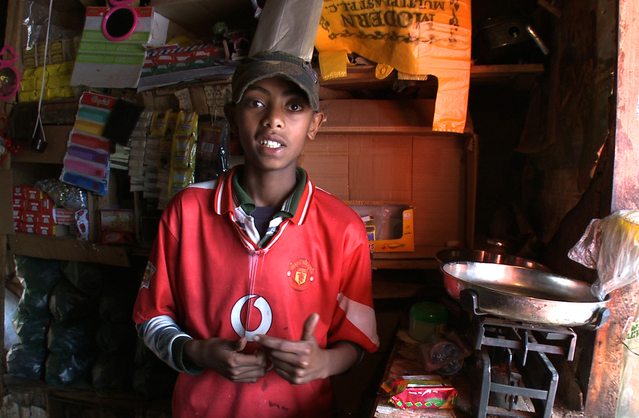 Tadias Magazine
By Tigist Selam

Updated: Friday, April 20, 2012
New York (TADIAS) – As the countdown to the 2012 Olympic Games in London gets underway, a remote town in the Arsi region of Ethiopia called Bekoji is receiving international attention as the world's capital of long-distance running. During the Beijing Olympics four years ago, runners from Bekoji won all four gold medals in the long-distance track events. The highland Arsi region is home to many of Ethiopia's Olympic Champions, including Haile Gebrselassie, Tirunesh Dibaba, Kenenisa Bekele and Derartu Tulu.
A new film co-produced by British-Ethiopian Dan Demissie and directed by notable filmmaker Jerry Rothwell introduces us to the town of Bekoji through the eyes of two teenage female athletes as they progress from school track to national competitions. The 86 minute documentary is also part of the 2012 Tribeca Film Festival, which is currently underway in New York.
In a recent interview with Tadias Magazine, the film's award-wining director said the movie was inspired by Dan Demissie's interest in the Ethiopian town and its legendary coach. "Dan came across the coach's work in Bekoji when doing research and we knew that's where we wanted to focus," Rothwell said. "The coach used to be a school teacher, he has an incredible passion for what he does and all the athletes trust him."
The story centres on Mr. Sentayehu Eshetu, a former elementary school Physical Education instructor, who discovered and trained several of the country's top runners, most significantly Derartu Tulu, the first African woman to win a gold medal at the Olympic Games. Narrated by their friend Biruk who runs a kiosk on the main road into town, the documentary follows two girls, Alemi and Hawii, over a three-year period from 2008 to 2011, as they strive to become professional runners. Through their struggle, the film gives a unique insight into the ambitions of young Ethiopians balancing their lives between the traditional and modern world.
Demissie proposed the idea of Town of Runners to Met Film Production back in 2008, while still a student at Met Film School. During his three years there he worked on the Bekoji project while fulfilling graduation requirements, and has now started graduate studies at the National Film and Television School in the U.K.
Demissie said working on the movie was personally rewarding for him. "It was my first time going to Ethiopia and I got to know the place where I was from," Demissie told Tadias. "It sounds kind of cheesy, but it's true I fell in love with Ethiopia." He said: "It was the best experience of my life."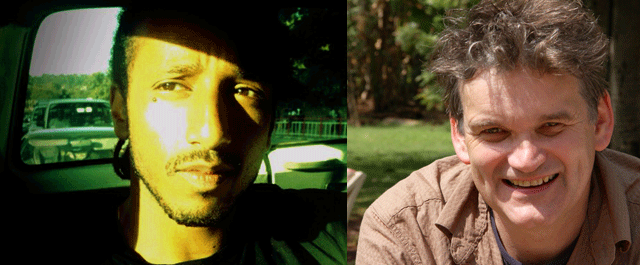 Dan Demissie (left) and Jerry Rothwell. (Photo credit: Townofrunners.com)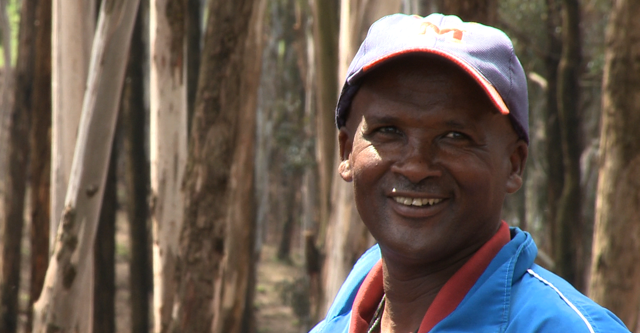 The coach Mr. Sentayehu Eshetu. (Photo credit: Townofrunners.com)
"I always saw how Ethiopia was portrayed in the media," Demissie continued. "It's always famine and war and all of these kinds of negative stereotypes that wasn't a fair representation." He added: "I wanted to make a film that countered that image, give it more of a balance. It was my dream to make a film about Ethiopia. I read about this small town and I thought that it was a good story. It's about people creating their own destiny. That's what attracted to me it. Later on I found out that I had distant relatives in the region."
For Rothwell, neither Africa nor running is new. "I'd spent 5 years of my childhood in Kenya and my hero at that age was Kip Keino [the retired Kenyan track and field athlete and two-time Olympic gold medalist] and then much later my daughter had taken up the sport seriously and so I was spending a lot of time by athletics tracks in the U.K.," Rothwell said. "And Ethiopia is just such a beautiful place to shoot, it is such a rich country."
"It was almost a coming-of-age film," Rothwell added. "It was wonderful to see a teenager grow from being 14 years old grow to 17, and to have shared so much time with them."
But Demissie pointed out that language was a problem for the mostly European film crew. "Back in England, I listened to my parents speak Amharic at home and I would respond in English. In Ethiopia, however, we were in a place where they talked Oromiffa and Amharic, so that was pretty challenging at times," he said.
Rothwell quipped: "It was great to see Dan getting better at his Amharic."
"Sometimes there is just so much bureaucracy," Demissie added, speaking about other challenges of making a film in Ethiopia. Rothwell agreed: "Because there is control of the media, it was difficult at times to get permission to shoot."
And where are Alemi and Hawii today? "Hawii is on her way back to the running club and she is building herself up there after her injuries," Demissie said. "Alemi left her running club, but we are not so sure why. It just recently happened." Rothwell shared: "When we first started to ask the coach about runners, we were interested in how achievement would affect the subjects. It wasn't about who were the best runners. We followed the coach to one of his competitions and we saw how strong their friendship was."
The Town Of Runners soundtrack features legendary band leader and father of Ethio Jazz, Mulatu Astatke, and additional recordings from Emahoy Tsegué-Maryam Guébrou, as well as a score by the British composer Vincent Watts.
"It's a great score and the pre-recorded music is amazing," Demissie said. "I want to thank the project manager Samuel Tesfaye who was key on the ground. We couldn't have done it without him."
—
Town of Runners will screen at Tribeca Online Film Festival on Thursday, April 19, at 6:45 PM.
Watch: Extended trailer – Town of Runners

Watch the trailer – Town of Runners

—
Related:
Town of Runners – review (Guardian)
The Ethiopian town that's home to the world's greatest runners (Guardian)