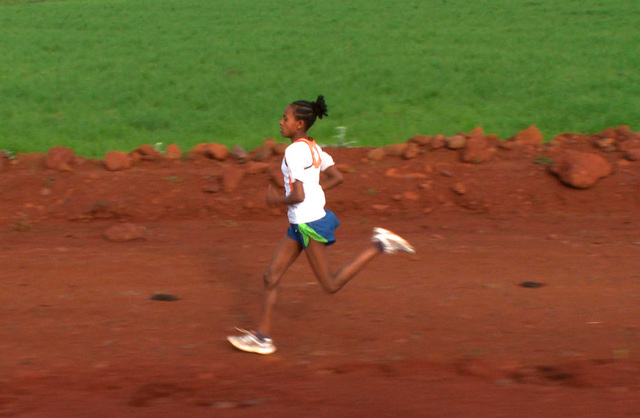 Tadias Magazine
Events News
Published: Monday, April 16, 2012
New York (TADIAS) – The 2012 Tribeca Online Film Festival, that runs from April 18th to April 29th, is featuring Town of Runners, a new documentary about Bekoji, Ethiopia – the place where some of the country's most famous athletes come from. In the last twenty years, Bekoji has produced several Olympic champions including Kenenisa Bekele, Tirunesh Dibaba, Derartu Tulu and Fatuma Roba. The success of Bekoji runners has paved the way for young Ethiopians who are following in their footsteps.
"Among the current group training under renowned coach Sentayehu Eshetu (whose protégé Derartu Tulu was the first African woman to win Olympic gold) are Alemi and Hawii, two teenage girls looking to set themselves apart from their teammates in Bekoji and move on to compete at the national level" states the film's synopsis. "Capturing the seasonal rhythms of this farming region and the gradual impact of urbanization with a keen artistic eye, Tribeca Film Festival award winner Jerry Rothwell follows these two young track hopefuls as they face the challenge of growing up and striving for greatness in a developing nation."
Town of Runners is one of four world premiere feature films that will be shown as part of the Tribeca Online Film Festival this month along with Babygirl, On the Mat, and The Russian Winter.
"For the third year running, this pioneering digital initiative expands the Festival experience, enabling audiences from all over the U.S. to view select features, short films, live streamed events (open to all audiences), and more, all for absolutely free," the Festival's announcement said. "Online audiences will have the opportunity to vote on the best online feature and short films via TribecaFilm.com. There will also be a social voting competition, based solely on popularity: the number of "likes" that film accumulates on the Tribeca Online Film Festival film detail page. The feature film and the short film that drive the most Facebook likes on the page will each receive a separate prize of $500."
—
Town of Runners will screen at Tribeca Online Film Festival on Thursday, April 19, at 6:45 PM. You can learn more about the online film festival at www.tribecafilm.com.
Watch the trailer – Town of Runners

—
Related:
The Ethiopian town that's home to the world's greatest runners (Guardian)