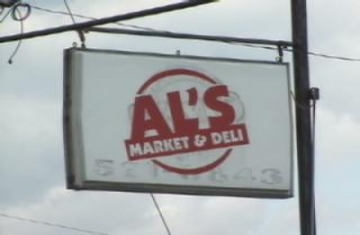 Above: Al's Market, a business run by Abdo Ibssa, has been
shut down. There is no word when it will reopen. (WBIR.com)
WBIR.com
Steve Butera
Updated: 4/21/2010 7:31:33 PM
Neighbors near the business operated by Abdo Ibssa said he was a nice man who experienced mental health problems.
"Because you never knew what attitude he had," said Jack Chesney. He lives near Al's Market on University Avenue near downtown Knoxville. That business was operated by Ibssa.
"Some days he'd be cool. Some days, he'd be mean and take it out on whoever," Chesney said.
Police say Ibssa shot three people, then himself April 19 at Parkwest Hospital. One victim and Ibssa died. He left a note, according to police, that a microchip had been placed in him during surgery. Neighbors knew about the man's fear.
Video: Who is Abdo Ibssa?

"We've heard him say crazy things and do crazy things," said neighbor George Johnson. "The chip they're talking about–I don't know where that came from, but he kept on thinking that the government put a chip in him."
Despite the problems Ibssa had, those same people who spoke of his problems also said they'll miss him. Some wrote on the sidewalk near Al's, "God bless this place."
"It's unfortunate that it happened, you know. I hope he's resting in peace, and I feel for the families that he did the tragedy to," said Johnson.
Al's Market has since been shut down. There is no word on when or if it will reopen.
Video: Police ID shooter as a naturalized U.S. citizen from Ethiopia

Watch: What cab driver saw of hospital shooting

—–
NEW:
Follow Tadias Magazine on Twitter
Join us on Facebook
Subscribe to our E-Newsletter!