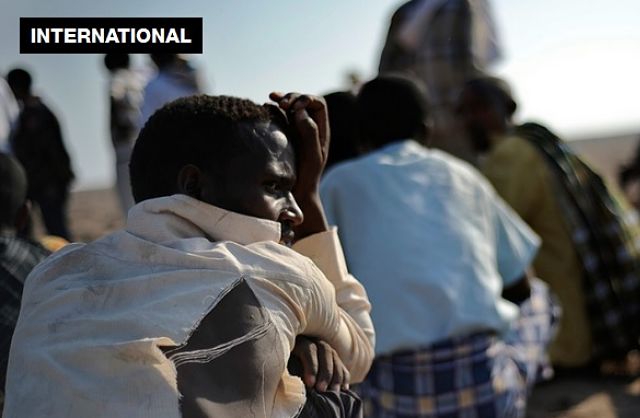 by Michael Pizzi
Tens of thousands of East African refugees and asylum-seekers are at risk of being left behind in Yemen's roiling violence, deprived not only of safe options for evacuation but also of a home country that might take them in, activists and U.N. officials said this week.
Since pitched fighting between Yemen's Houthi rebels and forces loyal to the ousted president erupted in March, escape from the country has been arduous even for foreign citizens and wealthy Yemenis. Airports are under fire and commercial transportation cut off, forcing the most desperate to charter simple power boats and make harrowing journeys across the Red Sea.
But for the over 250,000 registered Somali, Ethiopian and Eritrean refugees and asylum-seekers, the situation is even more trying. The U.N. High Commissioner for Refugees (UNHCR) and its partners have a contingency plan to receive 100,000 refugees in Somalia's relatively stable regions of Somaliland and Puntland, and another 30,000 in Djibouti, but that process will unfold over the next six months. And it is barely underway.
"The reality is that there are limited options for people to get out," said Charlotte Ridung, the Officer-in-Charge for the UNHCR in Yemen. "Some have fled by boat, but many ports are closed, and fuel is an issue so the options for escape are indeed limited."
As gunbattles and aerial bombardment engulf the port city of Aden, at least 2,000 people have fled urban areas to take shelter in the nearby Kharraz refugee camp, Ridung said. Thousands more refugees and Yemenis alike have begun to make the dangerous voyage across the water, including 915 people who fronted $50 each for boats from the Yemeni port of Mukha to Somalia — among them Somalis returning home for the first time in decades.
There, the UNHCR registered "women and children who arrived extremely thirsty and asking for water," Ridung said. They included a pregnant woman who was immediately transferred to a hospital to deliver her baby.
Meanwhile, asylum-seekers and migrants traveling in the opposite direction from East Africa continue to arrive in war-wracked Yemen. Last Sunday, the UNHCR registered another 251 people, mostly Ethiopians and Somalis, who arrived by boat at the port city of Mayfa'a. Whether they were unaware of the violence in Yemen or hopeful mass evacuations from the country might take them somewhere safer is unclear.
Read more »
—
Join the conversation on Twitter and Facebook.