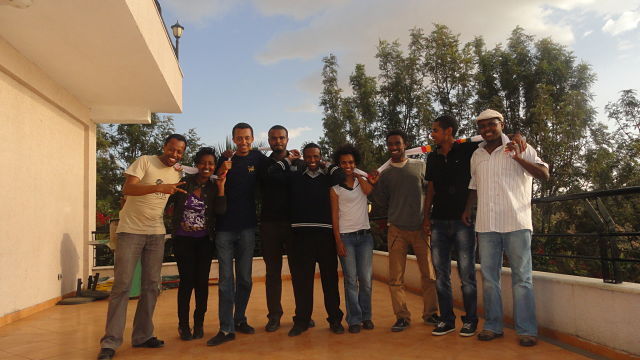 By Kerry Paterson/CPJ Africa Research Associate
It will be one year this weekend since six bloggers were arrested in Addis Ababa, just days after the group announced on Facebook that their Zone 9 blog would resume publishing after seven months of inactivity. As the anniversary of the arrests approaches on Saturday, Soleyana S. Gebremichale, one of the Zone 9 founders who was charged in absentia, told me the situation was not hopeless.
"International advocacy is important not only to pressure the Ethiopian government but also to show solidarity for people in prison," Soleyana, who is currently based in Washington, D.C., said. "The words and support that we show them are their strength in prison."
The six Zone 9 bloggers, arrested along with three journalists not connected to the blog, were held in detention until mid-July when a court in Addis Ababa charged all those being held, and Soleyana, with terrorism. Working with human rights organizations and participating in an email encryption training session were among the activities that led to the charges, according to reports. Their charge sheet, translated into English from Amharic, can be found here in full.
The Zone 9 bloggers–Befekadu Hailu, Atnaf Berhane, Natnail Feleke, Mahlet Fantahun, Zelalem Kibret, and Abel Wabella–and three journalists–Edom Kassaye, Tesfalem Waldyes, and Asmamaw Hailegeorgis–have now spent a full year in prison.
Among them is a lawyer and lecturer, an economist, and an IT specialist. One of them is a data expert in Ethiopia's Ministry of Health, another is an engineer for Ethiopian Airlines. They are writers, advocates, and activists, but the Zone 9 bloggers are not terrorists.
According to reports, these young professionals from a range of backgrounds were united by a desire for a more just, transparent, and democratic Ethiopia. The Zone 9 bloggers used their blog, which is still running, as a platform to write about social justice, democracy, and human rights. They spoke out about censorship and challenged corruption.
"Zone 9 existed because we had a hope that we could contribute for the public discourse," Soleyana told me.
The trial has been adjourned 26 times, most recently on April 8, according to a site that tracks its progress. The proceedings are scheduled to resume on May 26.
—
Related:
Ethiopian bloggers on trial in case seen as crackdown on free expression (Washington Post)
Media Crackdown in Ethiopia By JASON MCLURE (Audio)
U.S. Students Feature Ethiopia's Reeyot Alemu in 'Press Uncuffed' Campaign
Crackdown on Media & Opposition Costs Ethiopia Development Aid Money
As Election Nears, Increased Focus on the State of Media in Ethiopia
Join the conversation on Twitter and Facebook.