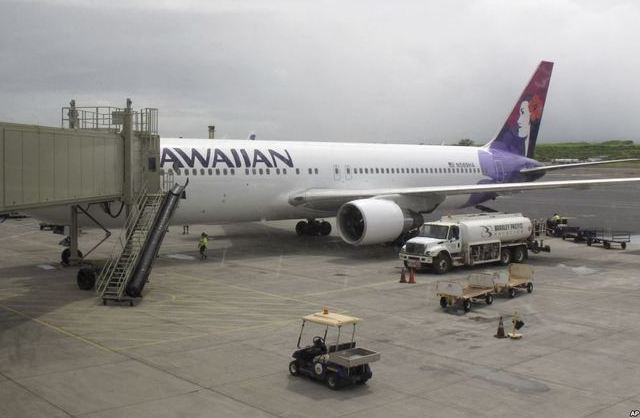 April 25, 2014
The mother of Yahya Abdi, the Somali-American teen, who stowed away in the wheel well of a Hawaii-bound flight from California, says her son was trying to reach her in Africa.
Speaking to VOA's Somali service from "Sheed Dheer" a refugee camp in eastern Ethiopia, Ubah Mohamed Abdulle, expressed shock and said she burst into tears when she heard the news of her son's miraculous trip.
"I felt bad that he risked his life," she told VOA. " I was told that he did this because of me."
She said Yahya Abdi, had recently learned that she was alive, after being told by his father that she was dead.
U.S. investigators say the 16-year-old boy snuck onto an airport tarmac in San Jose, California, and climbed into the wheel well of a Hawaiian Airlines plane.
Investigators say he managed to survive extremely low temperatures and low oxygen during the more than five-hour flight to Hawaii, where he was taken into custody and hospitalized.
The mother is appealing to the U.S. government and other international organizations to help her reunite with her kids including Yahya Abdi.
She accused the father of her son, of mistreating her kids.
"I am a mom who feels the pain of her fragmented family, some people told me how bad they [my kids] were treated," she alleged, adding that for years, she has been denied phone access to her kids.
"They were even told that I was dead, but they recently found out that I was alive," she explained.
Abdullahi said she is divorced from the boy's father, Abdilahi Yusuf Abdi, who lives in California with Yahya Abdi and the former couple's other two children.
Abdilhi Abdi spoke to VOA's Somali service in an exclusive interview, Wednesday. He said his son frequently talks about going back to Africa "where his grandparents still live."
Abdullahi said before Sunday's incident, she had not heard anything about her children since 2006. She said her former husband had traveled to Mogadishu and took the children away without her knowledge.
Abdullahi said she had sought help from a man who knows her family and he had recently informed the children that she is alive.
When asked what she was planning to do now, she responded "My dream is to live with them [my children], and when I get that, it's going to fulfill my ultimate dream of having my family [by my side]."
Abdullahi said she wants to live with her children in the United States because "Somalia is not safe to go back to."
VOA Somali service's Mohamud Ali contributed to this report.
—
Related:
AP: Mother of California stowaway living in refugee camp in Ethiopia
VOA Exclusive: Teen Stowaway's Father Says Allah Protected Son
Join the conversation on Twitter and Facebook.