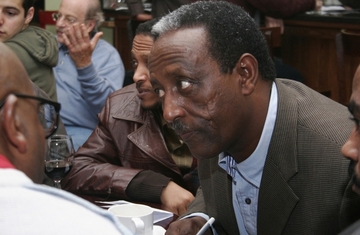 Above photo by Jeffrey Phipps for Tadias Magazine
Examiner.com.
April 25
What do you get when you cross a donkey and a book? A mobile library! Yes, thanks to Liberian Johannes Gebregeorgis, tens of thousands of Ethiopian children have learned to read.
Gebregeorgis, an Ethiopian native, was taught to read by Peace Corps volunteers in his village. He was inspired to create the program Ethiopia reads while working as a children's librarian in the San Francisco Public Library. Read more.
Related from Tadias TV:CNN Hero Meets Supporters in New York
Here is an updated video of Yohannes Gebregeorgis, one of the
Top Ten CNN Heroes of 2008, at Cafe Addis in Harlem, NYC.
The event took place on Saturday, December 13, 2008.